A Fortune 500 manufacturing company spent millions attempting to implement a new enterprise resource planning (ERP) system. Across the globe, a 150-employee marketing firm built and tried to implement a proprietary customer relationship management (CRM) system. For two very different companies doing two very different things, the outcomes were identical. In each case, the organization failed to activate and utilize its system as initially conceived by senior management. And these two organizations are hardly alone. On the contrary, research indicates that more than three in five new IT projects fail. Many miss their deadlines. Others exceed their initial budgets, often by ghastly amounts. Even systems activated on time and under budget often fail to produce their expected results and almost immediately experience major problems. Although the statistics are grim, there is at least some good news: these failures can be averted. Organizations often lack the necessary framework to minimize the chance of system failure before, during, and after beginning IT projects. Why New Systems Fail provides such a framework, with specific tools, tips, and insight from the perspective of a seasoned, independent consultant with more than a decade of related experience. The book examines in great detail the root causes of system failures. Detailed case studies, examples, and lessons from actual system implementations are presented in an informative, straightforward, and very readable manner. More than a theoretical or technical text, this book offers pragmatic advice for organizations both deploying new systems and maintaining existing ones.
Subtitle:
An Insider's Guide to Successful IT Projects
Image: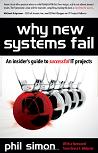 Member Reviews:
Review By: Arvind Pal Singh
04/18/2011I strongly recommend the book Why New Systems Fail: An Insider's Guide to Successful IT Projects by Phil Simon to project managers (PMs) leading a system implementation project. The author provides wisdom regarding dos and don'ts for making IT projects successful. He pinpoints where projects could go wrong, gives practical ways to fill the gaps, and warns PMs of the challenges that a large IT project implementation can face. He includes a good deal of personal experience without much technical jargon, so even a non-technical person would benefit from reading it.
This book resonates with my own experiences as well, and Phil has done a great job of capturing those experiences in a very clear and organized manner. I like that the book is direct, concise, and able to give insight into challenges. Not only that, but the solid recommendations make this one to keep in your personal library.
I could easily apply the information in this book to my current project. The author reinforces his points with various case studies and real-world examples. Anyone in senior management can use this book to get better insight into a project, identify points of failure, and establish corrective plans to avoid those failures.