The role of UX manager is of vital importance–it means leading a productive team, influencing businesses to adopt user-centered design, and delivering valuable products customers. Few UX professionals who find themselves in management positions have formal training in management. More often than not they are promoted to a management position after having proven themselves as an effective and successful practitioner. Yet as important as the position of manager is to the advancement of the field there are no books that specifically address the needs of user experience managers. Though information is available on the Web, nothing ties that advice together in the way a manager would need to integrate it in their work.
User Experience Management speaks directly to the UX manager and to the unique challenges one may face. It outlines the robust framework for how to be an effective UX manager, from creating a team, to orchestrating product development, to ensuring UX is not compromised, to achieving company buy-in on results. This acts as a checklist readers can use to make sure they have covered the bases as they think about how to build their own user experience programs. Written by an experienced UX manager, and containing testimonials from many leading managers in the field, managers both current and aspiring will find this an invaluable reference loaded with ideas and techniques for managing user experience.
Subtitle:
Essential Skills for Leading Effective UX Teams
Image: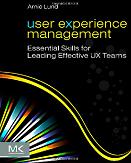 Member Reviews:
Review By: Siva Krishnajee
03/13/2012Arnie Lund has authored a great book about essential skills for managing UX teams. The book is not simply about user experience management. It is about managing creative people at fast-moving technology companies. The book is well written and based on real stories and experience. This is a must-have book for any person who is managing creative people or who aspires to manage creative people in technology companies.
User experience management is becoming a separate discipline in technology companies. Product managers are assigned to this function, which combines the skills of technology, UI design, and psychology. They will grow as UX team managers in their career. Arnie Lund has written in detail about how these managers can create, equip, focus, and nurture their teams. In addition, he has covered how to create a high-performance team, transform the organization, and be an evangelist for the product and the organization.
Specific things I liked in the book include what should be covered in an elevator speech and how to manage the executives in product evangelization. In the world of successful business, Arnie clearly communicates that creating a product is only half the job. The creator should be able to sell the product to executives on how it aligns with the executives' goal and thus the organization. Without that, the product won't go anywhere.
The book has tables, charts, and diagrams to convey details very clearly. Lund explains the grief cycle, which employees undergo when there are layoffs. Also, the chart matrix about the professional activity model is a great thing. It clearly shows which activity has influence over what professional areas and the impact.
This book is a manager's guide for self management, managing a team of creators, and general management techniques. It can be used as a reference for most management activities.