The IBM SOA Foundation Suite is an integrated, open-standards-based set of software, best practices, and patterns that help you systematically maximize the business value of SOA. Understanding IBM SOA Foundation Suite brings together 26 hands-on tutorials that will help you master IBM SOA Foundation and apply it successfully in your organization. Four of IBM's SOA practitioners identify core IBM SOA Foundation components and usage scenarios, and walk you step-by-step through implementing them in real-world environments. This book's self-contained tutorials are presented both in print and through video on the accompanying CD-ROM, showing you the results of every action immediately, whether you're running the software or not. Using these tutorials, technical professionals can quickly move up the learning curve, discovering how each product works, and how they fit together. You'll gain the big picture overview you need to make intelligent up-front decisions, and all the hands-on practice you need to prototype working solutions.
Subtitle:
Learning Visually with Examples
Image: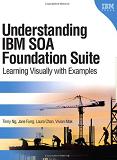 Member Reviews:
Review By: Vivek Vaishampayan
04/19/2010This book from the IBM press contains a wealth of information. The main purpose is to help readers understand SOA in its true terms. It also introduces various IBM tools available to implement SOA. Once you start reading, the authors reveal the true meaning and understanding of SOA by using IBM SOA Foundation Suite, as the name of book suggests.
The book will help both business and technical managers understand how to use the IBM SOA Foundation Suite to gradually and systematically maximize the business value of SOA. This book will further educate development team members and project leaders on core IBM SOA Foundation Suite components. The authors also provide a step-by-step process for implementing SOA and the IBM SOA Foundation Suite in real-world business environments. The book definitely will have a long shelf life, because it is difficult to implement all SOA components at once. In fact the authors suggest to go easy and follow their step-by-step process to achieve the big results.
Technical professionals can simply use the tutorials and quickly learn how each product works and then how to integrate all the pieces. The best part of the book is that it provides hands-on practice lessons for developing prototypes of working solutions.
The book is divided into seven major sections in which the authors discuss IBM Software Architect, IBM Rational Application Developer, IBM WebSphere Application Server, IBM WebSphere Portlet Factory and Portal, and IBM Tivoli Federated Identity Manager.
This good book does have some room for improvement. The authors need to consider that not everybody will have all IBM products and they need to mention equivalent or replacement applications for the IBM products mentioned in this book. There is no mention about any open source software tools other than IBM. There is also no mention whether these IBM SOA Foundation Suite components will work with other non-IBM products. Overall, I'm not surprised that the authors didn't given any reference to other open source products since it's an IBM press book.
It's great to see how to accomplish SOA in pieces and how to integrate the pieces and securing it too, even if by using all IBM products. Yet all these IBM products are subject to change and will evolve as more challenging business environments arise. At that point, the readers will be left to catch up with the updates and enhancements made to IBM products in future.