Successful Packaged Software Implementation guides IT departments through the selection and implementation of packaged software, pointing out potential pitfalls and how to avoid them. Offering a step-by-step approach, this volume begins with an assessment as to whether packaged software is the correct solution. It then analyzes the product selection and contract negotiation processes before addressing the technical details of installation and configuration. Although focusing primarily on acquiring, installing, and implementing applications software (the most complex category of software from an IT manager''s viewpoint) this book also is applicable to shrink-wrapped and system software.
Image: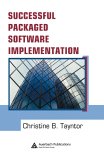 Member Reviews:
Review By: Noel LeJeune
10/30/2006In "Successful Packaged Software Implementation," author Christine Tayntor does an excellent job of covering all aspects of incorporating vendor-supplied software into an organization. She provides a complete process that will help readers avoid costly mistakes.
The author has an impossible task of providing enough details to make your project more successful without over-prescribing. An audience of novices will find the entire book helpful, while the experienced reader may be somewhat annoyed with the level of detail. (For example, some may find the in-depth discussion about which columns to sum in the vendor ranking spreadsheet a bit much.) However, despite the sometimes tedious discussion of details, Tayntor's ideas are valid and often critically important. Experienced readers will find something new to improve their next projects.
The first two sections, which cover planning and selecting the software, provide useful information and detailed checklists for selecting the project team, defining the problem the software should solve, identifying requirements and potential products, and issuing RFPs and RFIs, as well as an eight-step process for evaluating products and vendors. Section three gives the non-lawyer a view of important legal issues, ranging from the negotiating process to the key elements of software licenses. The final two chapters of this section cover professional service agreements, service contracts, and statements of work. Section four delves into the politics of selling the solution within your organization, preparing for change, and selecting an implementation strategy. The section on implementation covers everything from general project management tips to the need for change management procedures. Chapters in this section also address customizations, interfaces and conversions, training, and special challenges with multi-site implementations. The final section discusses post-implementation support and the necessary but often overlooked need for a project postmortem.
"Successful Packaged Software Implementation" includes over seventy-five tables and figures, many of which are useful templates to guide your project. It is highly relevant for anyone tasked with acquiring and implementing vendor-supplied software for an organization. The book's strength is that it captures many years of experience in working these types of projects in a thorough, very detailed but readable style. Almost any organization seeking to improve its process can find something useful in this book. The extraordinary coverage offers something for everyone--higher management, project manager, or IT worker. QA staff concerned with process improvement will find practices and procedures that will make for greater success.
This book is a must read for anyone who works with a commercial, off-the-shelf software solution. Tayntor has done an unbelievable job of collecting, organizing, and presenting years of valuable experience into just over 300 pages. Why make the mistakes yourself when you can learn from someone else's?