It's a jungle out there and project managers are fighting to survive! With countless man-hours clocked and billions of dollars spent every year on project tools, the success rate for projects remains astonishingly low. So what's the solution? Introducing TACTILE Management[trademark], a people-centric system that works in conjunction with an organization's existing processes. Based on the seven characteristics of high-performance project teams transparency, accountability, communication, trust, integrity, leadership, and execution this book shows project managers how to: take project teams out of their functional silos and transform them into a powerful, integrated force Balance the expectations of customers, management, and project teams with the technical requirements of cost, schedule, and performance; apply practical phase-by-phase project guidance to real-life situations; avoid or minimize possible pitfalls; and, every successful project involves someone in the trenches who has the people skills to match process with the capability of his team and organization. This innovative book shows readers how to make the most of their people! and ensure project success.
Subtitle:
How to Manage the People Side of Projects
Image: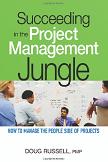 Member Reviews:
Review By: Gerry Thompson
02/15/2012Doug Russell's Succeeding in the Project Management Jungle tackles the complexities of product management and offers a roadmap to success. What differentiates this book from your shelf full of project management books? The author uses a familiar tone and easy-to-follow writing style to guide the reader though his project management thesis. High-level product managers, as well as developers in their private cubicles, will find the topics and stories applicable to their roles with their organization as well as cultural guides for improving their software development process.
The author begins by describing a project manager deeply lost in the project jungle. Any book on project management must include at least one project that utterly fails to be worth its salt, and the author's choice of a dirigible project is a classic. The project ends in total physical disaster.
There is a way out of the pitfalls a manager might unwittingly fall into while in the jungle. The author feels "engineers and technical people are trained to be negative." Therefore, many books written for software project managers focus on what not to do rather than engendering a positive approach to project management. The author describes a very positive approach to product management called "TACTILE" management—Transparency, Accountability, Communication, Trust, Integrity, Leadership that drives needed change, and Execution results. The author describes of each component of the TACTILE environment succinctly and applies his basic principles to project management throughout book.
A critical component of effective project management is managing the expectations of all product stakeholders. The author describes a traditional expectations pyramid including management, customer, and team expectations. The author applies the TACTILE approach to managing the expectations pyramid with meaningful examples including real-world use cases. The author applies the TACTILE approach to a typical project workflow, including initiating a project, the planning stage, execution, monitoring controlling and reporting, and finally closing project activities. Implementing the positive, human-oriented TACTILE environment can be a boon to large or small companies looking to remove roadblocks to effective product management. The author does a great job of bridging the gap between the abstractions of software development to the real world of human interactions, which are the true leverage point for organizational success.