We all know that software testing is the most important part of the Software development life cycle and the quality of the end product is mostly dependent on how well we test our products. But, testing is neither an easy process nor remotely exciting for all the developers. For testing your applications on the Microsoft platform, Visual Studio Team System 2008 offers you a range of powerful tools for different types of testing. This Microsoft product makes the testing process easier as well as more exciting, not boring anymore. This concise guide will lead you through the bewildering range of features offered by Visual Studio Team System 2008 to test your software applications before going live. It is packed with simple examples and screenshots to get you comfortable with the VS Team System 2008 testing environment. The book introduces you to the main types of testing available in VS Team System 2008 for both desktop and web applications, and then walks you through deploying, running, and interpreting the results of tests. If you've been testing applications in Visual Studio 2005, the book will show you how you can move this easily to Visual Studio 2008. You will learn about the Unit test, Manual test, Web test, Load test, Ordered test, and Generic test, and the support for them in VS Team System 2008.
By the end of the book you will be using the tools to manage and run your tests, collect and analyze your test results, and improve the reliability of your software applications.
What you will learn from this book?
Explore the testing types offered by Visual Studio Team system 2008 Test Edition
Convert your existing Visual Studio 2005 testing application to Visual Studio Team system 2008
Unit-test your class library application, ASP.NET web application and the services created using Visual Studio 2008
Test your Web site before going live and rest assured of its performance; customize the test to meet your requirements
Load-test your applications to check application performance under various conditions
Collect and analyze the test results to improve the quality of your applications
Master various formats of manual testing to help test without automation tools
Manage, filter, and configure the test to control the execution of your application
Deploy your tests using local as well as remote deployment and run them
Run your tests and publish the results from a command line using MSTest tool
Create and utilize reports to see the progress and quality of your project
Subtitle:
A comprehensive and concise guide to testing your software applications with Visual Studio Team System 2008
Image: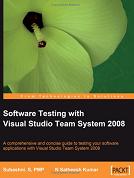 Member Reviews:
Review By: Chris A. Grady
12/28/2009This book by Subashni S., PMP, and N. Satheesh Kumar, is an ideal reference text for developers, testers, and test managers utilizing Microsoft's Visual Studio Team System 2008 (VSTS). The text is meant as a guide for those actively using VSTS or those contemplating its use. The book is divided logically into sections that build upon each other starting with unit testing to final results reporting. The authors outlined the book in an easy-to-follow manner.
The authors start out with a nice introduction to VSTS and the types of testing supported. The subsequent chapters build on the functionality available to the VSTS user. Key functionality is highlighted throughout with examples on how to execute the desired function. If you are not currently a VSTS user, I would not recommend this text as it is product specific. The chapters are written in a way that the authors explain what they are going to discuss, then sort of jump in to the examples and functions that fall under that heading. In this sense it was disengaging to the reader. Unless you want to use the functions in a chapter, it would seemingly be a waste of time to read that chapter. The chapters also contain a summary with a quick wrap up of the ideas and functions presented.
I found the book to be more like a users' manual than a reading text. There weren't many insightful moments into general testing techniques. I must assert though that current VSTS users will find this a valuable resource.
The "Software Testing with Visual Studio Team System 2008" provides an excellent reference and users' guide to VSTS '08. The examples provided seemed to be easy to understand and the use of screen shots allows the reader/user to see what the authors are discussing. I would recommend this for current and potential VSTS users.