Software Testing: Principles and Practices is a comprehensive treatise on software testing. It provides a pragmatic view of testing, addressing emerging areas like extreme testing and ad hoc testing.
Image: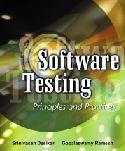 Member Reviews:
Review By: Ronald R. Goodwin, PMP
03/12/2010This is a classic textbook for any phase or type of software testing. Authors Desikan and Ramesh have created a type of book for which I have been looking for a long time. This is more than a "how-to" book. As I read through it, I feel as if I am reading a "Software Testing for Intellectuals" book rather than the usual muck-and-mire testing manual. The book achieves its greatness by addressing areas not covered in other software testing books, areas that include theory and practice; balancing issues that rise among people, processes and technologies; but most importantly the practical exercises that provide a real, day-in-the-life view of a software testing specialist.
I have told my testing teams about this book, urging them to add it to their personal libraries, and also to try to get our corporate library to purchase a copy. I did not segregate the novice testers from the seniors when recommending this book--I feel this book can provide something for everybody to learn.
The writing style does reflect the somewhat stilted style you see from authors for whom English is not a first language; however, the style did not distract from the readability. The short, intro stories to each subsection of a chapter were priceless. To close this review, let me provide just one that really hit home with me. It is called, "The Cat and the Saint."
"A saint sat meditating. A cat that was prowling around was disturbing his concentration. He asked his disciples to tie the cat to a pillar while he meditated. This sequence of events became a daily routine. The tradition continued over the years with the saint's descendants and the cat's descendants. One day, there were no cats in the hermitage. The disciples got panicky and began searching for a cat desperately, saying, "We need a cat. Only when we get a cat, can we tie it to the pillar and only after than can the saint begin his meditations.'"
All too often testing teams test because that's what they've done since they started working on that team. And, all too often, they are doing tests that provide no return on their investment. This book may help you break that unprofitable tradition.