"Software Reliability Engineering" is the classic guide to this time-saving practice for the software professional. ACM Software Engineering Notes praised it as: ". . . an introductory book, a reference, and an application book all compressed in a single volume…The author's experience in reliability engineering is apparent and his expertise is infused in the text." IEEE Computer noted: "Toward software you can depend on…This book illustrates the entire SRE process…An aid to systems engineers, systems architects, developers, and managers."
This second edition is thoroughly rewritten for the latest SRE practice, enlarged 50 percent, and polished by thousands of practitioners. Added workshops help you apply what you learn to your project. Frequently asked questions were doubled to more than 700. The step-by-step process summary, software user manual, list of articles of SRE user experience, glossary, background sections, and exercises are all updated, enhanced, and exhaustively indexed.
Subtitle:
More Reliable Software Faster And Cheaper
Image: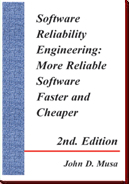 Member Reviews:
Review By: Janet D. Kennedy
06/17/2005"Software Reliability Engineering: More Reliable Software Faster and Cheaper" is intended to be both an introduction to the topic as well as a practical way to start applying the principles.
Author John D. Musa aims to "show how to develop and test software more efficiently, giving you more time for your personal life." This is a seemingly intended appeal to readers who are on their way to burnout in the fast-paced world of software development. Musa explains that he was struggling with the need to produce faster, cheaper, more reliable software than was previously possible. With the realization of this ongoing expectation of customers, he and his associates decided to develop an engineering-based quantitative method to meet these demands.
The core materials section of each chapter in the book provides the reader with a general overview of the principles of Software Reliability Engineering (SRE). Questions posed by the author in the exercise sections deal with material covered in the core materials sections; answers are provided in the appendices. Other questions prompt the reader to consider his own application of the material. The workshop sections work best when you are working through an actual application. But if you can't make a correlation to a real life application, the author provides a sample product which is referenced throughout the book. The special situations sections cover topics such as testing acquired software or grouping failures into severity classes. The background sections introduce mathematical formulae and provide some of the details required to gain a working understanding of the method instead of just defining theoretical knowledge. The final section, frequently asked questions, is most informative because many questions provoke as much thought as their respective answers.
The book's style is pleasantly conversational, written in first person and directly addressing the reader. One important feature is an extensive reference section, both for the application of SRE and the background material, as well as references to relevant websites. The author's personal site, an excellent reference listed on the flyleaf of the book, contains a current list of websites for SRE.
In "Software Reliability Engineering: More Reliable Software Faster and Cheaper" Musa writes for different audiences, from university students who have yet to gain practical experience to experienced software professionals who are seeking a better way to assess the software that they deliver.