A guide to attracting, recruiting, interviewing, and hiring the best technical talent.
A comprehensive system for hiring top-notch technical employees
Packed with useful information and specific advice written in a breezy, humorous style
Learn how to find great people—and get them to work for you—in an afternoon!
The top software developers are ten times as productive as average developers. Ten times. You can't afford not to hire them. But if you haven't been reading Joel Spolsky's books or blog, you probably don't know how to find them and make them want to work for you.

In this brief book, Joel reveals all his secrets--from his years at Microsoft, and as the co-founder of Fog Creek Software--for recruiting the best developers in the world. You'll learn:
How to create a pipeline of excellent developers using internships--and why this is not optional
How to build a workplace where the best programmers want to work
The secrets to reading resumes, interviewing technical people, and deciding when to make an offer
If you've ever wondered what you should be looking for in a resume, if you've ever struggled to decide whether to hire someone at the end of an interview, or if you're wondering why you can't find great programmers, stop everything and read this book.
Subtitle:
Joel Spolsky's Concise Guide to Finding the Best Technical Talent
Image: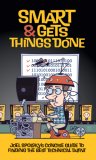 Member Reviews:
Review By: Alan Madick
06/28/2010There is a popular belief that the strength of a company may be defined by the collective brain trust of its employees. Many feel that companies that do not place the highest priority on hiring and retaining top talent are the same companies that fall by the wayside. These companies then become best known for having so much potential but never quite making it from "good to great." Joel Spolsky, the author of "Smart & Gets Things Done," is a great proponent of hiring and retaining the top technical talent. His book is a witty and creatively looks at how this philosophy should be applied to the quirky species of workers known as computer programmers.
Intended mainly for hiring managers and HR personnel, this book will be of great interest to a far wider spectrum of IT professionals. Written in a logical and meaningful sequence, the book begins with some relevant facts that are intended to clearly show that quantity does not always equal quality (e.g. "five Antonio Salieris won't produce Mozart's Requiem"). Spolsky backs this up by using real-life data from an actual study done by a Yale professor.
Spolsky attempts to describe the personality of the typical developer. He also includes a detailed "how to" guide on how to read resumes, conduct phone screenings, and run a formal interview. Each of these items is backed by tips and techniques that Spolsky has learned first-hand, from his early experience as an employee through to the knowledge gained as a business owner. Realizing that many of us may have made hiring mistakes in the past, the last part of this book offers valuable information and advice on recognizing sub-optimal teams. I particularly enjoyed the numerous links to Web sites and books, all of which were effective in lending further credence to the validity of Spolsky's message.
Interestingly, the timing of this book could not be better. With the baby boomer era nearing the retirement phase, we are about to witness a shortage of technical resources, the likes of which we have never seen before. It will be easy to succumb to this reality and hire impulsively--without a lot of regard to the quality of the candidate. However, the suggestions and methods described in this book will help those, who believe in quality, be well positioned to hire people who will make significant and lasting contributions to their company.
Overall, this book is an interesting read. It deserves a permanent spot on the bookshelf of anyone who aspires to having and maintaining highly effective software development teams.