Revised and updated, this second edition clearly explains Six Sigma concepts and their application, maps Six Sigma concepts and tools to all aspects of system development, and proposes the use of Six Sigma tools to evaluate and improve the overall performance of the IT department. In addition to classic Six Sigma, the book introduces Design for Six Sigma (DFSS) and illustrates when and how its tools and techniques can be used to increase the robustness and reliability of a new system. It also shows how the judicious application of lean tools can reduce the complexity of IT processes.
Image: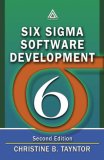 Member Reviews:
Review By: Paul Nicholson
04/02/2008As a person with only a passing acquaintance with the Six Sigma methodology, I was pleased to review "Six Sigma Software Development" (SSSD). Six Sigma (SS) focuses on improving processes by eliminating defects; the term is a statistical measure which indicates that fewer than 3.4 defects are present per million opportunities. While Six Sigma (a registered trademark of Motorola, the originator of the practice) was originally developed for manufacturing processes, the premise of the book is that it can and should be used in software development.
The book is divided into nine sections; after reading the first two sections the reader can safely skip ahead to the parts which are most relevant to him or her. Section 1 provides an introduction to SS. Sections 2 and 3 guide the reader through case studies which apply SS at a fictional manufacturing company. The first case study uses standard SS, while the second covers an extension known as Design for Six Sigma (DFSS). SS in its original form improves on existing processes but ideally one would want to produce a design that is minimally flawed, and DFSS was created to help here. Subsequent sections abandon the case study format and instead simply describe various applications of SS step by step, complete with tables and related methodologies, to various software development scenarios. These include the waterfall method, RAD, legacy support, outsourcing, packaged software, and more.
The writing in SSSD is clear and easy to follow but don't read the book as the sole means of education to start a Six Sigma project. In the first chapter, the author describes the need for formal training and the requirement that participants in SS projects receive some level of certification in SS in order to work on a SS project. There are three levels of certification: Green Belt, Black Belt, and Master Black Belt. This book, in that respect, might be read by an employee before embarking on a SS project, as a precursor to formal Green Belt training. Because of its breadth, the book might also serve as a quick reference or refresher for someone who is fairly new to SS or who has been away from it for a while.
The book uses the fictional Global Widget Company, with mixed success, to walk through two case studies. In this company objections and roadblocks are discussed and dispatched without dissension, and personality conflicts are non-existent. While this makes for a more compact presentation it feels all-too artificial. I was left yearning for a "Soul of a New Machine" style narrative covering real people in a real company squabbling and sweating to apply SS to a real software application. Six Sigma novices who can overlook the contrived nature of the case studies will find a useful introduction to Six Sigma in this book.