Inspired by Jerry Weinberg's Web-based roundtable on software engineering and management--the SHAPE forum, for Software as a Human Activity Performed effectively--consultants James Bullock, Marie Benesh, and Jerry Weinberg reviewed thousands of postings and culled the most powerful, provocative points of debate. Reading this fast-paced dialogue among forty experts, software professionals will quickly benefit from the contributors' many years of combined experience.
Contributors include Wayne Angel, James Bach, Jim Batterson, Marie Benesh, Rick Brenner, James Bullock, Brian Crook, Jerry M. Denman, Esther Derby, Joe Dindo, Dale Emery, Danny R. Faught, Pat Ferdinandi, Jesse M. Gordon, Elisabeth Hendrickson, Kevin Huigens, Steve Jackson, Jim Jarrett, Steve Jenkin, Dave Kleist, Karen Lopez, Pat McGee, Graham Oakes, George Olsen, Bill Pardee, Sue Petersen, Dwayne Phillips, Brian Pioreck, Brian Richter, Sharon Marsh Roberts, Stiles M. Roberts II, Johanna Rothman, Bertrand Salle, Brett Schuchert, Bill Seitz, Daniel Starr, John Suzuki, James Tierney, and Jerry Weinberg.
Whether you are a technical star adjusting to management
responsibilities or an experienced leader looking for fresh
perspectives, you will benefit from this intense dose of real-world
wisdom drawn from so many managers' best advice.
-from the back cover
Image: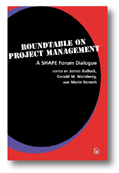 Member Reviews:
Review By: Beth Anderson
09/10/2002This book is exactly what its subtitle says, "A SHAPE Forum Dialog." Following a biography of each of the contributors to the dialog, the preface gives a description of the SHAPE Forum (Software as a Human Activity Performed Effectively) and emphasizes the community of SHAPE. This is a rather elite group of people with an abundance of experience in all areas of software development.
The remainder of the book is extracted directly from SHAPE forum threads. It is well organized into short chapters, making this an easy read. Each chapter begins with a brief explanation of and introduction to the thread. This is followed by the actual dialog, separated into individual posts. Each chapter concludes with a brief "Lessons" section in which James Bullock and others outline the lessons that can be learned from the situations discussed. Much of the discussion uses "The Story of the Failed Success" as an example. This project is introduced in the first chapter and is referenced often throughout the book. Many of the common issues surrounding project management are discussed.
Generally, project management books I've seen are more likely to lump people in with other "resources." Refreshingly, in this book there is much dialog surrounding people and the affect they have on a project, as well as the affect the project has on its people. The final two chapters give practical advice concerning general lessons learned, first directly related to projects, and finally lessons to be learned about ourselves as people managing projects.
I found this book fascinating. The concept of "listening" to conversations between some highly respected individuals in the IT and Software QA fields was appealing. The biographies at the beginning of the book were intriguing in and of themselves. While I wouldn't consider it a textbook on project management, it does contain practical advice and interesting concepts. One of my favorites is the concept of reacting in conventional or historically correct ways to unconventional situations or new technological issues, using the Titanic as an example. The Titanic sunk because the captain reacted in a way that was appropriate for most ships, but not for the new designs used for that particular ship. This is a problem managers of all types of projects have faced, perhaps since the beginning of time.
While my focus has always been on SQA, I've managed my share of projects and have experienced many of the same frustrations and pitfalls discussed in the book. I especially appreciated the people-focused angle of the discussions. This group is aware that people are much more than just another resource. The passions and personalities of the team members have an incredible impact on a project. The project manager needs to try to use these to the project's advantage.
The subject of testing comes up several times in the book, though it isn't the main focus. Of course with contributors such as James Bach, Danny Faught, and Elisabeth Hendrickson, I wasn't concerned that this topic would be ignored. I may not recommend this book to someone new to the field, but it was captivating to this seasoned veteran.