A Lifetime of Invaluable Management Insights from Legendary Software Quality Guru Watts S. Humphrey
In 1986, Watts S. Humphrey made an outrageous commitment: a promise to transform software development. As the pioneering innovator behind SEI's Capability Maturity Model (CMM), Personal Software Process (PSP), and Team Software Process (TSP), Humphrey has more than met that promise. But his contributions go beyond methodology: For decades, his deeply personal writings on project management have been admired by software engineers worldwide.
Reflections on Management brings together Humphrey's best and most influential essays and articles-sharing insights that will be indispensable for anyone who must achieve superior results in software or any other endeavor.
Collected here for the first time, these works offer compelling insights into everything from planning day-to-day work to improving quality, encouraging teamwork to becoming a truly great leader.
All of these writings share a powerful vision, grounded by a life in software that has extended across nearly six decades. The vision is this: To succeed, professionals must effectively manage far more than plans, schedules, and code-they must manage teams, bosses, and above all, themselves.
Subtitle:
How to Manage Your Software Projects, Your Teams, Your Boss, and Yourself
Image: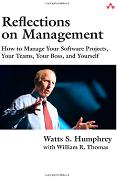 Member Reviews:
Review By: Alan Madick
11/09/2011Unlike many of today's fashions, Watts S. Humphrey's book is not likely to be out of style or past its shelf life any time soon. The information provided here comes from years of practical experience and all relates to a recurring theme: quality must be a part of everything you do. Mr. Humphrey's take on the theme relates quality to processes and "soft" skills, such as leading, being led, and being part of a team. Quality never goes out of style. The advice provided today by Mr. Humphrey will be just as important ten years down the road.
I found the book easy to read and especially enjoyed Mr. Humphrey's injection of real-life examples throughout the book. He provides some interesting facts, none more interesting than the average number of expected defects in a typical application (1 per 1,000 lines of code). As someone responsible for supporting an application with well over a million lines, that fact alone resonated and made me determined to read on. If I were to rewrite this book, I would perhaps spend a bit more time explaining the personal software process (PSP) and the team software process (TSP).
This book should appeal to a wide audience as the concepts are not technical. Rather, they are recommendations designed to help software engineers, testers, project managers, and CIOs of a software company. I was immediately able to benefit, particularly from Mr. Humphrey's advice on negotiation and taking control of your work.
I suggest this book to my coworkers, especially those who have suffered through frustrating software projects that go from bad to worse with no end in sight. Overall, this book was a worthwhile read and I highly recommend it.
Review By: Noreen Dertinger
11/09/2011Reflections on Management: How to Manage Your Software Projects, Your Teams, Your Boss and Yourself by Watts Humphrey is a treasure trove of insight drawn from Humphrey's more than sixty years of experience in the IT field and his previous books, articles, and columns. This book is divided into four parts about the topics listed in the title: managing your projects, managing your teams, managing your boss, and managing yourself.
Practical, real-life experiences are provided throughout this book to illustrate the points Humphrey is trying to make. For example, over the years, I have become accustomed to defects being referred to as "bugs," as is common in the software field. Humphrey suggests that defects are more like time bombs than bugs. While he concedes that not every defect is likely to have an explosive impact, some defects could have a very significant and even dangerous outcome. Through personal experience and from having read a wide variety of software testing books, the defect/time bomb analogy is one that I can understand and identify with.
This book is primarily aimed at managers and provides them with a concise road map addressing the key issues that they will encounter or have to address when they acquire responsibility for a project and the accompanying professionals. It also should be a must read for new or aspiring managers, as it will give them an overview of the issues they are facing and provide them with possible tips and solutions.
Reflections on Management is also a good read for non-management IT professionals. As a software testing professional, I was able to glean useful tips from the scenarios and principals presented in the book—in particular, some of his advice with regard to working on or as a team and the section on managing yourself. This book provides sound advice on working with those above you in a way that provides your managers with what they want while avoiding creating the impression that you may be competing for their job (a big no-no).
Humphrey clearly communicates the importance of quality goals throughout his book. At approximately 250 pages, it is possible to read it within a week. The author's writing style is clear and easy to follow. I highly recommend the addition of this book to every software practitioner's bookshelf, regardless of whether that practitioner is a manager or not. Personally, I will be re-reading this book very soon and keeping it at hand on my bookshelf as a key reference.