Based on the authors' more than fifteen years of experience in software agent technology, this book first presents the essential basics, aspects, and structures of the agent technology. It then covers the main quality aspects in software system development and gives current examples of agent measurement and evaluation. Focusing on software agent systems and multi-agent systems (MAS), the authors discuss the determination of quality properties. They also explain different techniques and approaches to evaluate the development of MAS. The final chapter summarizes quality assurance approaches for agent-based systems and discusses some open problems and future directions.
Image: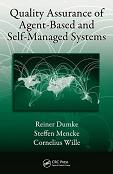 Member Reviews:
Review By: Robert Jahrling
05/20/2010It's difficult to argue with Dumke, Mencke, and Wille's central thesis that software agents are ubiquitous. They play a critical role in the daily lives of everyone who encounters them--from engineers to users--and therefore the quality of these systems is similarly critical. Quality Assurance of Agent-Based and Self-Managed Systems is not a how-to guide, but an explanation of possible approaches to testing Multi-Agent Systems (MASs).
The book begins with a chapter focusing on an attempt to define agents and agent-based systems, followed by a chapter outlining software quality assurance in general, which narrows to a discussion of metrics and measurements specific to MASs. The bulk of the remainder of the book is an overview of various strategies and techniques proposed by researchers in the field of software quality.
As such, the book does not hold the reader by the hand and say, "Here is how to test agents." Those looking for such a volume should probably look elsewhere. Researchers, computer science professors, and advanced students would probably find this a worthwhile addition to their bookshelves.