Project Requirements: A Guide to Best Practices gives project managers tools they can assimilate and apply easily to improve project success rates, reduce development costs, reduce rework, and accelerate time to market. Based on experience and best practices, this valuable reference will help you: Clarify real requirements before you initiate project work; Improve management of project requirements; Save time and effort; Manage to your schedule; Improve the quality of deliverables; and Increase customer satisfaction and drive repeat business.
Project Requirements: A Guide to Best Practices provides project managers with a direct, practical strategy to overcome requirements challenges and manage requirements successfully.
Subtitle:
A Guide to Best Practices
Image: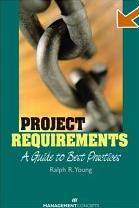 Member Reviews:
Review By: Cathy Bell
08/11/2008We all know that failed projects cost organizations millions of dollars, so it's no surprise that the number one concern of project mangers is successful implementation of their projects. There are many resources available that explain project requirements, but knowing what to do and how to do it are not enough. Project Requirements: A Guide to Best Practices was written to bolster the efforts of individual project managers in guiding their projects to success.
Author Ralph Young is very direct, squarely putting the role of the project manager as the cornerstone of a successful project. Young charges the project manager with evolving the stated requirements (received from the customer early in the process) into the real requirements (the "verified" needs of the system). In the book's introduction, Young reviews the various types of requirements that will be discussed throughout the book and defines some key terms taken from the Project Management Body of Knowledge.
Young outlines criteria to help determine good requirements, and defines the roles of team members in gathering these requirements. Young states that the project manager should set expectations up front using the criteria outlined in the book and then help the other team members analyze the requirements as the requirements are gathered. Partnering is discussed in chapter three in which Young points out that although this may not be a tool typically used by project managers, it is a proven business practice that is gaining in popularity. Partnering takes the team beyond working together in that it fosters a collaborative and trusting relationship that serves the interests of all team members, all of which will make the requirements gathering process more successful. In chapter four, Young delves into common issues that prevent us from gathering the real requirements and then arms the project manager with tools to resolve these issues. Chapters five and six cover how the project manager can foster teamwork on his/her projects and how to coach the all-important team members who have the greatest impact on requirements. The emphasis is on building relationships within the team and increasing their involvement in the process, which yields better results.
Young attempts to teach the project manager reading this book some concepts of participative management, which allows the team to own specific tasks while providing leadership and keeping their focus on the vision as defined for the project. He also covers the key issues of project communication and how the project manager can lead by example in this area. There are two points of view when it comes to process and discipline as they relate to agile development. Some view process as necessary to agile development while others view process as an impediment. Young touches on how a project manager can advocate and implement the right amount of process for any agile development without stepping on the agile nature of the project.
Later in the book, Young outlines incorporating continuous improvement in individual projects and the impacts this process can have on the project staff. Young also discusses how the project manager can help advocate the need for a sound, quality assurance process by recommending the company invest in a professional quality assurance team rather than leaving this task to anyone who has time to test. A key attribute of a good project manager is his/her ability to identify and mitigate risk, which is the topic of discussion in Chapter eleven.
After reading all the solid advice in this book, a project manager might ask, "Where do I start?" Chapter twelve gives practical advice on implementation of the process improvements topics discussed in order to benefit, rather than disrupt, your projects.
This book has many useful checklists and tables, but these are not made available electronically. You will have to create them from scratch. Also there are eleven pages of resources and references including both Web sites and various other publications that the reader may find useful.
The book was easy to read and the ideas are presented both logically and with a degree of authority and passion. The author captures his own experience as well as that of others who he relied on for their insights. This shows that the ideas in this book are not just theories but ideas that have been successfully implemented by others.
While discussing the role of QA, Young states "A culture can't completely be installed on day one, but it can start on day one and continue each day thereafter." If the project manager remembers this statement each day, she can impact her project for the better by following the advice in this book. Before she knows it, she will have implemented a culture of continuous improvement.