With the continually changing business environment, the business analyst is becoming a critical project leader and business/technology consultant helping organizations ensure they are investing in the most valuable projects, and then managing the project benefits. Professionalizing Business Analysis: Breaking the Cycle of Challenged Projects focuses on the emerging business analysis profession, and describes both the strategic and tactical roles of the business analyst.
Subtitle:
Breaking the Cycle of Challenged Projects
Image: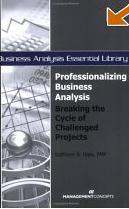 Member Reviews:
Review By: Stuart M. Miller
08/25/2008"Professionalizing Business Analysis--Breaking the Cycle of Challenged Projects" is a good read for someone interested in becoming a business analyst or someone who is already working in the field and wants some guidance on the path they should take to further their career. It outlines the responsibilities of an analyst at every level of the organization.
The author, Kathleen B. Hass, PMP, breaks the book into three sections. The first gives some background on how the business analyst role has evolved through the years. The second introduces the reader to the functions of a business analyst in today's workplace. Finally, Hass discusses how issues like organizational structure and development methodology can impact the role of a business analyst. In each section table inserts help the reader understand the activities expected of an analyst at each level (associate, intermediate, senior, strategic).
Many of the activities listed in the book seem to assume a waterfall development methodology; however, Hass does touch on the role the analyst in an organization using agile development.
The title of this book may suggest that the book could contain strategies for business analysts to use which would help them overcome challenging projects. That clearly isn't the case here. Instead, the book focuses on the role definition of a business analyst. There is still value however, as anyone in a BA role who performs the activities described for their level will likely overcome many failures that others might not.
I found the end of the book slightly disappointing as it concluded with the introduction of a business analyst's capability maturity model created by the author.
If I were to rewrite this book, I would have included strategies for overcoming common BA hurdles in projects. I would have also included real world examples. I also would have included more information at the end about the value of measuring and improving your company's capability as defined by the model.