With the introduction of Visual Studio 2005 Team System (VSTS), Microsoft for the first time offers software developers and test engineers a complete and integrated suite of tools for software testing. This authoritative book shares with you best practices for software testing using VSTS test and development tools and covers all phases of the development lifecycle so that you may learn how to implement these practices.
Written by key members of the team that developed the VSTS test anddevelopment tools, this essential resource offers a no-nonsense introduction to using the tools the way they were meant to be used. The authors walk you through the overall user interface of the Visual Studio Team Edition for Software Developers and Visual Studio Team Edition for Software Testers. You'll explore each of the available test types and learn how to effectively use the code analysis and dynamic analysis tools to quickly become effective as a software developer or test engineer.
Subtitle:
Tools for Software Developers and Test Engineers
Image: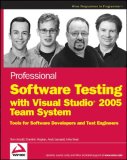 Member Reviews:
Review By: Garry Archer
07/28/2008I could relate to "Software Testing with Visual Studio 2005 Team System" right from the start as the material within has been part of the development environment I know and use on a daily basis. My knowledge of the testing tools mentioned in this book has been broadened by the authors in that I was unfamiliar with the Web testing features and the various models available for the testing process, including Team and Studio editions. Code examples are presented, but, for the most part, the book deals with setting up and running through all the settings of the various test processes. The user would require the actual products to evaluate the tests in this book, which is aimed at the software developer and software tester or technical analyst looking to better their perspective software or Web application.
The authors have delivered their thoughts in precise chronological order. They run through a synopsis of the process leading up to the topic at the beginning of each chapter followed by detained steps in using the topic, followed by a summary of what they had shown the user. Numerous references to future chapters keep the reader ready for more to come. I'd say the book is very well written.
Unless you are an IT professional or are stocking up the library for your IT staff, the book isn't for you. Have it if you must if you--like me--are a developing standalone or Web applications, or are trying to do data driven testing for SQL. I will recommend this book to the many Visual Studio/C# and MS SQL Server partners where I work.
I found the book covered each area in depth; the authors also included examples designed to walk you through the processes, step by step. This book is great for the user. One could claim to be a neophyte and still grasp the process as a whole.