The Principles of Product Development Flow will forever change the way you think about product development. Reinertsen starts with the ideas of lean manufacturing but goes far beyond them, drawing upon ideas from telecommunications networks, transportation systems, computer operating systems and military doctrine. He combines a lucid explanation of the science behind flow with a rich set of practical approaches. This is another landmark book by one of the foremost experts on product development.
Subtitle:
Second Generation Lean Product Development
Image: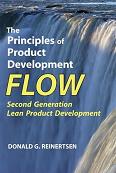 Member Reviews:
Review By: Ann E. Drinkwater
07/08/2011The Principles of Product Development Flow is an excellent source on product development decision making. As I read it I added many notations and flagged many pages for later reference. Reinertsen looks at economics, lean and agile theory, and practices of the US Marine Corps for illustrations and pragmatic principles to help increase throughput and add value. Having previously formally studied lean and agile, I still found significant new insights and drew new conclusions that I can directly apply to my profession. Significant areas of interest and application to my role include: marginal economics, average returns, decision theory, failure rates, scheduling methods, Little's Formula, and managing queues.
Without giving away too much, some key takeaways include:
Manage processes upstream of a bottleneck to improve flow at the bottleneck.
There is a need to review both probability and payoff.
By reducing uncertainty of an economic outcome, you create economic value.
Focus mostly on areas of inactivity, instead of areas where you think there is inefficiency.
You don't need perfect analysis; improve with imperfect answers.
Avoid collocating teams.
Poorly defined roles increase the need for communication and meetings.
Only a handful of features will really make a difference.
Conduct early contact with opposing forces to learn about your opponent and develop your game plan.
Understand the intentions two levels higher in the organization.
Small batches accelerate feedback.
Give lower levels authority, information, and practice.
While some of the topics are complex, the author's writing style and organization of content make this material easy to follow. You do not need to be specifically in product development to make use of this material. Applying the theories outlined in this source will make this a must read for generations to come. I recommend this book to anyone involved with or responsible for making planning decisions.