Together we'll journey together through bits of cognitive and neuroscience, learning and behavioral theory. You'll discover some surprising aspects of how our brains work, and see how you can beat the system to improve your own learning and thinking skills. In this book you'll learn how to:
Use the Dreyfus Model of Skill Acquisition to become more expert
Leverage the architecture of the brain to strengthen different thinking modes
Avoid common "known bugs" in your mind
Learn more deliberately and more effectively
Manage knowledge more efficiently
Software development happens in your head. Not in an editor, IDE, or design tool. It's time to take a pragmatic approach to thinking and learning, and start to refactor-and redesign-your brain.
Image: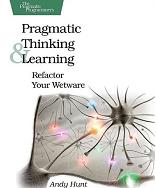 Member Reviews:
Review By: Richard J. Foster
05/18/2009Anyone using computer technology on a regular basis quickly realizes that he must continually improve his current skills and learn new ones. In this book, author Andy Hunt, also a co-author of other books in the Pragmatic Programmer series including the bestselling "Pragmatic Programmer," takes us on a tour of our brain. Starting from the premise that "context matters," he discusses the characteristics of novices versus experts and how our brains function before moving on to the main goal of the book—tips and techniques to help improve the operation of your brain.
Programming experience is not necessary, although basic computer expertise is desirable to fully appreciate some examples. For instance, the dual-CPU metaphor Hunt uses to illustrate the two modes of brain operation. Having said that, don't overlook the book if your specialty is in other areas. Most of the items discussed have a proven track record in other contexts. For example, the Dreyfus model of skill acquisition discussed in detail in chapter two has been used effectively in the US healthcare industry since the 1980's.
As with other books in the Pragmatic range, the author does not attempt to provide simple recipes for doing things, recognizing that what works for one person in one context may be ineffective or inappropriate if either person or context change. What he does do is provide an extensive bibliography which readers can use to learn more about the things that work for them.
The sections of the book that I found most interesting were the ones titled "Debugging Your Mind" and "Learning Deliberately." The debugging section discusses things like the Hawthorne effect (i.e., where people tend to return to old habits) and generational affinity (e.g., Gen X'ers tend to share a similar world-view that is different from the one shared by Baby Boomer's).
The chapter on learning contains valuable suggestions to help build your knowledge portfolio, including the use of SMART characteristics when setting your goals.
While some of the techniques seem unusual I recommend giving them a fair trial because there is no other way to determine how effective they are for you. I suspect the ideas offered by this book are ones readers will return to for many years. I'm sure I will. Now if you'll excuse me, I have a duck to talk to. If you want to know why, grab a copy and read page 181!
Review By: Joey McAllister
05/18/2009In this book, author Andy Hunt offers a book for everyone "whether you're a programmer, manager, 'knowledge worker,' technogeek, deep thinker, or if you just happen to have a human brain you'd like to crank up." Hunt is a programmer, and most of the lessons he includes in this book are written from the point of view of a software worker. At the heart of the book is the now common idea of right- and left-brain thinking. But Hunt's goal is to teach us how to use that idea to our advantage—how to debug our thinking, and, in some cases, even rewire our minds.
Some of Hunt's suggestions, backed by a bibliography full of expert reading material, include using multisensory techniques (e.g., fiddle with a paperclip or a tactile puzzle while on a telephone call or brainstorming solutions to a problem) and changing your environment. One of the supporting stories is that of Elias Howe, inventor of the sewing machine, who solved the problem of the lockstitch after waking from a dream about cannibals. Needless to say, the brain is a funny thing.
Pragmatic Thinking and Learning reads a bit like the print version of an MTV music video (the sort they used to show on MTV) in that the lessons come in the form of quick, short bursts of information. This might prove tiresome for those who don't like to see so many pages broken up with sidebars. Then again, this barrage of information, a few snippets at a time, may be exactly the change of pace that Hunt suggests the linear brain needs.
Hunt observes that complex interactions and constant evolution mean that the most important modern skills are communication, learning, and thinking. With that in mind, this book isn't a solution to any particular problem. It's a map to get you started on a journey toward understanding why you think the way you do, what you may be missing, and what you can do about it all.
"The brain is a horrifically complicated squishy lump of stuff."

~Andy Hunt