Get the practical guide to getting your development project off to a successful start!Zero in on key project-initiation tasks--and build a solid foundation for successful software development. In this concise guide, critically-acclaimed author Karl E. Wiegers fills a void in project management literature by focusing on the activities that are essential--but often overlooked--for launching any project. Drawing on his extensive experience, Karl shares lessons learned, proven practices, and tools for getting your project off to the right start--and steering it to ultimate success. Lay a foundation for project success--discover how to:
Effectively charter a project
Define meaningful criteria for project success and product releases
Negotiate achievable commitments for project teams and stakeholders
Identify and document potential barriers to success--and manage project risks
Apply the Wideband Delphi method for more accurate estimation
Measure project performance and avoid common metrics traps
Systematically apply lessons learned to future projects
Companion Web site includes: Worksheets from inside the book, Project document templates, Resources for project initiation and process improvement.
Image: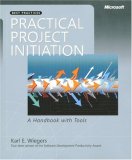 Member Reviews:
Review By: Tim Dugan
05/22/2008Practical Project Initiation covers a range of activities that should be considered before you delve too deeply into requirements, design, and code. The book starts with a few chapters on the fundamentals and then moves on to more detailed areas such as risk analysis and how to develop a charter (i.e., a mission statement for a project). The next section discusses how to face unpleasant realities in a project's life. Then it ends with a discussion of metrics and information on learning from your experiences.
I particularly liked the list of "Best Practices" in chapter two, many of which sound like common sense but are frequently omitted, such as "Practice #8: plan to do rework after a quality control activity," and "Practice #17: plan contingency buffers."
I was also intrigued by an estimation method described within the text that I had never seen before called "Wideband Delphi." It appears to have some potential as a way to balance out different individual's biases in estimating.
Another interesting aspect of the book is the set of "tools" provided therein. Most every section describes a method of charting or creating lists of items or tasks relavent to project initiation. At the end of each of those sections are sample forms of the charts and lists.
I'm certain that the next time I work on the front end of a new project, I will consult this text.