In Patterns-Based Engineering, two leading experts bring together true best practices for developing and deploying successful software-intensive systems.
Drawing on their extensive enterprise development experience, the authors clearly show how to deliver on the promise of a patterns-based approach—and consistently create higher-quality solutions faster, with fewer resources.
Lee Ackerman and Celso Gonzalez demonstrate how Patterns-Based Engineering (PBE) can help you systematically overcome common obstacles to success with patterns. By bringing discipline and clarity to patterns usage, their techniques enable you to replicate your success broadly and scale patterns to even the largest projects.
The authors introduce powerful ways to discover, design, create, package, and consume patterns based on your organization's experience and best practices. They also present extensive coverage of the nontechnical aspects of making patterns work, including a full chapter of guidance on clearing up misconceptions that stand in your way.
Image: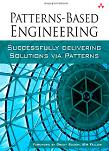 Member Reviews:
Review By: Harry L. Kirkpatrick
05/27/2011
This is one of the best books I have read in a very long time. The authors, Lee Ackerman and Celso Gonzalez, do an excellent job presenting the material. The book is well-structured and very easy to read. This was my first encounter with Patterns-based Engineering (PBE), and I'm sorry I waited so long to get my feet wet.
PBE is a specialized approach to asset-based development that focuses on patterns, a specific type of reusable asset. PBE provides guidance and support for using patterns in a systematic, disciplined, and quantifiable way. The goal is to ensure that organizations use and create patterns in a way that adds value and boosts the agility of their projects and organization.
The book is broken into four parts. Part one provides an introduction to PBE. Part two describes some of the best practices related to PBE in the form of patterns and guidelines. Part three covers additional topics that provide a deeper examination of PBE, particularly the nontechnical aspects. Part four wraps up the book with a set of appendices that provide supporting materials and references.
There's a wide audience for this book, including software architects, designers, developers, project managers, process engineers, and analysts, including those responsible for testing, requirements, and business. To get a high-level understanding of PBE, one should read all of part one and chapter nine from part two, which provides a high-level summary of the PBE patters and guidelines. The authors use forward and backward pointers within each chapter to tie everything together and enhance the flow of the material. From the opening page to the final page, the authors kept my interest. I'm looking forward to applying this material to my day job.
The authors clearly state that PBE is not a silver bullet or some magic elixir that will cure all that ails our projects. However, PBE, as demonstrated in real-world projects, takes a systematic and disciplined approach to using patterns—proven, best-practice solutions—to deliver software.