Success in today's IT environment requires you to view your career as a business endeavor. In this book, you'll learn how to become an entrepreneur, driving your career in the direction of your choosing. You'll learn how to build your software development career step by step, following the same path that you would follow if you were building, marketing, and selling a product. After all, your skills themselves are a product.
The choices you make about which technologies to focus on and which business domains to master have at least as much impact on your success as your technical knowledge itself--don't let those choices be accidental. We'll walk through all aspects of the decision-making process, so you can ensure that you're investing your time and energy in the right areas.
You'll develop a structured plan for keeping your mind engaged and your skills fresh. You'll learn how to assess your skills in terms of where they fit on the value chain, driving you away from commodity skills and toward those that are in high demand. Through a mix of high-level, thought-provoking essays and tactical "Act on It" sections, you will come away with concrete plans you can put into action immediately. You'll also get a chance to read the perspectives of several highly successful members of our industry from a variety of career paths.
As with any product or service, if nobody knows what you're selling, nobody will buy. We'll walk through the often-neglected world of marketing, and you'll create a plan to market yourself both inside your company and to the industry in general.
Above all, you'll see how you can set the direction of your career, leading to a more fulfilling and remarkable professional life.
Subtitle:
Creating a Remarkable Career in Software Development
Image: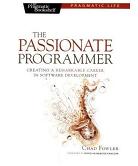 Member Reviews:
Review By: Julie Lacroix
02/08/2010The Passionate Programmer is a book that explains how to become the best in your job, which is also stated in the subtitle of the book: "Creating a Remarkable Career in Software Development." All the advice in the book is applicable to every job in IT and some other domains unrelated to IT. The author guides the reader through a logical path to be conscious of a product and how to bring that product to a higher level of quality and recognition.
The book is organized in five different parts. The first part is about choosing a target market and product. The second part explains ways to invest in the product. The third part is about the actions that should be done to achieve your goal. After that, comes marketing the product which is the topic of the fourth part. Finally, the last part is about maintaining your product's competitive edge. In addition, five testimonial experiences conclude each part of the book that illustrates the concepts introduced.
The most interesting part of the book is "Investing in Your Product." Each chapter here covers how to acquire new knowledge and have fun during the learning experience. Many tasks are easy to accomplish, motivating, and can create great opportunities. For example, the author suggests being interested in the real business of a company. As part of my job as software validation manager, I've asked my team to pair themselves with other department's users. This activity allowed my team to learn how these users work on a daily basis, to understand their realities, and to see how they use the software in their daily tasks. The direct impact of this initiative is tests are now more representative of the user workflow. Another task presented by the author is to work on an open source project and create a new module or fix known bugs.
I recommend this book to any one concerned with the success of his professional future or anybody with a lack of motivation for his current job. I also recommend this book to everybody in the IT world because it will open minds to the different facets of IT and different ways of learning.