Micro-independent software vendors, or micro-ISVs, have become both a major source of applications and a realistic career alternative for IT professionals. As for the latter--are you a programmer and curious about being your own boss? Where do you turn for information? Until now, online and traditional literature haven't caught up with the reality of the post-dot.com bust.
Micro-ISV: From Vision to Reality explains what works and why in today's emerging micro-ISV sector. Currently, thousands of programmers build and deliver great solutions ISV-style, earning success and revenues much larger than you might guess.
Written by and for micro-ISVs, with help from some of the leaders of the field--this book takes you beyond just daydreaming to running your own business. It thoroughly explores how it is indeed possible to launch and maintain a small and successful ISV business, and is an ideal read if you're interested in getting started.
Image: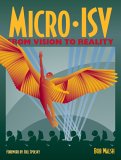 Member Reviews:
Review By: Michael Kahn
11/23/2007
Bob Walsh does an excellent job of covering a variety of topics of relevance to anyone intending to start a small software business (a.k.a. a Micro ISV (Independent Software Vendor). Software specific skills and some general business skills are covered. Many useful web sites and programs are also highlighted in the book. The book is filled with numerous in-depth interviews from successful micro ISV leaders, as well as other software experts.
The book covers various software topics such as application design, configuration management issues, and beta testing as it applies to a Micro ISV. Each of these topics is important for developing a software business.
The book also introduces a few business topics to its readers. This is good because some software developers working for a company have not had to deal with these issues. The legal entity used for business, marketing and promotion, e-commerce issues, and customer issues are discussed.
One of the more notable things about the book is the large number of Web sites and low-cost utility programs and subscription services the book cites. It is as if the author had surfed the Web for days, sifted out the junk, and provided the reader with a wealth of useful resources for starting and running a small software business.
The book is written in a casual, readable style that many software professionals should be comfortable with. For anyone thinking of starting a software business, getting and reading this book is a worthwhile investment.