Written from the standpoint of a project manager working in a software development organization, this unique guide explains software project management in its entirety, including project acquisition and execution with backward linkages to concepts that play a facilitation role in successful project management. It provides all the guidance, best practices, tools and techniques needed to master software project management and achieve superior results.
Image: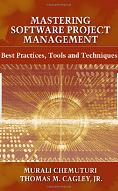 Member Reviews:
Review By: David Fern
04/08/2011
"Mastering Software Project Management: Best Practices, Tools, and Techniques" is an excellent, easy-to-read resource that delivers best practices, tools, techniques, and pitfalls of software project management exactly as advertised. Through easy-to-understand analogies, quotes, and "real life" examples (not just theories) the authors present all you need to know for managing a process-driven software project, including templates, process flows, and checklists that you can immediately use to improve the management for any software project.
I appreciated that the book reflects the PMI PMBOK project phases of initiating, planning, execution, monitoring and controlling, and closure and gives valuable insights and examples to help us understand the detailed ins and outs of each phase. However, the authors specifically state that this book should not be used as a resource to pass a project management test.
The authors explain that software development and software project management is so different from production management in factories, answering the age-old question "Why is software development so different from building a bridge or building?" We learn through examples that software project management lacks complete design, lacks standard tools, and relies heavily on human labor. The processes and tools to address these issues are included as the heart of this book.
This relatively small book covers many topics, including soft skills, project metrics, the Program Evaluation and Review Technique (PERT) and critical path method, decision-making tools such as the Delphi Technique, decision trees, management games, work breakdown structures, and more.
The templates and forms shown in the book are available as Microsoft document files on the website. Additionally, there are two software packages: the Personal Effectiveness Tool, which aids personal efficiency, and a 180-day trial of the PMPal software project management tool, which provides insight into the efficacy of your software development process through software metrics. I looked at both packages and found them interesting but probably will not use either.
Although I thoroughly enjoyed this book, I would make a few changes to its organization as well as some content. First, the book has ten core chapters and eleven very informational appendices. In my opinion, much of the information in the appendices may have been better presented in the core. For example, the "Decision" chapter discusses PERT at a high level and then refers you to the appendix for more details. Since the writing style is easy to understand, I would rather have had all of the information together in the "Decision" chapter (especially because I assume that appendices are more secondary references and occasionally skip reading them altogether). I also felt that chapter 12, "Pitfalls and Best Practices" was a rehash of previously discussed topics.
Secondly, the authors present detailed information on some topics, giving huge lists of things to consider or documents to create, and just a few sentences for other topics. I found it interesting that is no discussion of project requirements, which are the source of many defects and project failures, while the authors do discuss testing and testing tools.
Finally, the authors include a chapter of ten pages on agile project management. They do not discuss any other development methodology, so this section seems like an afterthought.
In conclusion, I recommend this book to everyone on my team, anyone new to project, and those who want to improve their project management skills. The best practices, tools, and techniques are timeless, making the book an excellent reference for anyone involved in software project management.