Whether you use budget, schedule, quality, or other criteria, the statistics by think tanks, institutes, associations, and other trade organizations all point to one inescapable conclusion: your project has a greater chance of getting into trouble than staying out of it.
Based on the lessons learned by the author during a quarter of a century of leading projects to successful conclusions, Managing Projects in Trouble: Achieving Turnaround and Success unveils the five secrets to ensuring success—even for projects seemingly doomed to fail.
Using numerous flow diagrams and checklists, it explains how to take action in ways that will increase the likelihood of success and minimize the possibility of failure.
Image: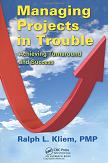 Member Reviews:
Review By: Gena O'Flaherty
03/02/2012
Managing Projects in Trouble takes the reader on an insightful and methodical approach to taking over a troubled project. It is evident that the author has real-world experience and offers real-world solutions. By breaking the takeover process into five actions—Energize, Envision, Explore, Evaluate, and Execute—it allows the project manager to focus on each step as it builds to the next step.
Starting with Energize, there are several tips to infusing positive action to an ailing team. Instead of focusing on all the things in the project that don't work, the author encourages project managers to accept that things need to change for the better and to use this approach when motivating the team. By focusing on the future state, the team will have direction towards improving the current state. Providing the psychological factors to consider in relation to a team's morale will be helpful to new managers to understand a worker's intent. The author also explains the common traps that managers can fall into when taking over a troubled project and the impact this can have on a project's success.
The last action, Execute, explains how to pull everything from the previous actions together to execute the newly formed project vision using methods fit for the best chance of success. Areas that project managers will find helpful for achieving a successful turnaround include: creating and managing a new project management plan that includes a recovery plan and skills mapping, attaining consistency within your management practices, applying metrics to determine effectiveness, and establishing a new baseline for the project team.
At the end of each chapter, there is a checklist exercise to help you evaluate where you and your project are in relation to the current action. By helping the reader understand her own state, the book provides a useful roadmap for her to implement the current action on her own project.
This book has all the fat cut from it and offers straightforward and practical advice on areas not often considered in project management books. When I read it, I had just begun on a troubled project and needed quick and tactful ways to start down the road to improvement. I implemented each action and, four months later, I am happy to report that this method worked wonderfully. It's based on practicality, so there wasn't much resistance from my team when we went through each action. I wish more project management books were written as concisely as this one.