More and more businesses and government agencies are finding software and IT to be crucial to their success and efficiency. This increased reliance is surfacing many shortcomings in the way software projects are managed.
Software is central to running any business effectively - it's just as important to success as marketing, sales, finance, and operations. This book provides an MBA level of understanding of the key dynamics of software projects and will position executives to improve outcomes. Managing the "Black Hole" is about management, not technology.
Software projects are risky - failures are common. Less than 1/3 of all software projects (purchased or built) are fully successful (on-time, on-budget, with all intended features and functions). The average software project overruns its budget by around 50% and schedule by around 80 percent. The average project delivers less than 70 percent of planned features and functions.
Software projects are extremely wasteful--in an average organization only 30-40 percent of total software cost results in "value-added" - best in class organizations (less than 15%) achieve twice as much value add - 100 percent more 'bang for the buck'.
This book examines the underlying root causes of failures--the "Seven Deadly Sins" and provides a non-technical introduction to a range of proven remedies--the "Five Redeeming Virtues". The ideas in this book will enable your organization to join the elite few who have taken these lessons to heart.
Leaving the solution to these problems solely in the hands of IT specialists has not proven a successful strategy--top management understanding and engagement are required to improve outcomes!
Image: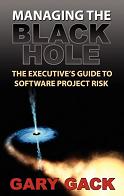 Member Reviews:
Review By: Dan Luciano
09/28/2010
This short book presents an overview of risk management in a way non-technical and technical managers can understand the basics without much previous knowledge. Those interested in a deeper understanding should look to other books or sources. This book is not meant to be an in depth reference.
The book is divided into three sections addressing: what could go wrong on a software project, why things go wrong, and what can be done to fix the problem. Most of the material is not presented in great detail, but the companion Web site listed in the book contains more information for those interested, including links to webinars and other sites.
I found section three to be the most interesting part of the book. Here the author gives a brief overview of the Earned Value Management System, a very complex tracking method that takes quite some study to fully understand. Because of its level of complexity, the author presents a simplified version of the method, which he calls Earned Value Lite. His method should work well for those starting to track how well their organizations manage projects.
I would highly recommend this book to those interested in defect tracking and analysis, and risk measurement and management. I would also recommend this book to others in IT or software development. The book will be on your bookshelf for a long time, because software and IT project will always carry some risk. The book will inspire you to think of alternative approaches to improve your process, no matter which process or methodology you use.