All of your projects and programs make up your portfolio. But how much time you actually spend on your projects, and how much time do you spend responding to emergencies?
This book will introduce you to different ways of ordering all of the projects you are working on now, and help you figure out how to staff those projects—even when you've run out of project teams to do the work.
Once you learn to manage your portfolio better, you'll avoid emergency "firedrills." The trick is adopting lean and agile approaches to projects, whether they are software projects, projects that include hardware, or projects that depend on chunks of functionality from other suppliers.
You may be accustomed to spending time in meetings where you still don't have the data you need to evaluate your projects. Here, with a few measures, you'll be able to quickly evaluate each project and come to a decision quickly.
You'll learn how to define your team's, group's, or department's mission with none of the buzzwords that normally accompany a mission statement. Armed with the work and the mission, you can make those decisions that define the true leaders in the organization.
Image: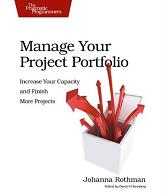 Member Reviews:
Review By: Matt Gelbwaks
09/28/2010
Johanna's latest book is a veritable how-to manual for setting up and operating a project portfolio. One of my few criticisms is the title. Don't get me wrong, the title--Manage Your Project Portfolio–is a great title because it tells you exactly what to expect. However, as a journeyman project manager (PM), I would look at the book and dream wistfully of the day in the future when I would need to read it. Don't you be fooled! This book indeed is a great reference book for the senior PM, but it is absolutely indispensable for the PM who wants to become a senior PM.
My recommendation is that all PMs get the book and first read chapter twelve. It is short--the last two pages of the book. Then go back and read the first three chapters. Then spend a month managing your project. After that, sit down, re-read Chapter 12, and ask your self "in the last month, am I managing a project or a portfolio?" I bet, with Johanna's added perspective, you will conclude the latter. If so, spend the next couple days reading the entire book. Many aspects will become crystal clear, and areas that are begging for streamlining and improvement will begin to leap out at you. Your "portfolio" will begin to take shape--no matter how abstract. You will also find that the throughput and effectiveness of your team should improve dramatically.
If you conclude that you're managing a project and not a portfolio, re-read chapter twelve after every significant milestone. I bet it won't be too long before you too are agreeing and are ready to treat your project like a portfolio. Once you are, this book will become your operator's manual and give you guidance and direction well through the point where portfolio management is just another muscle memory in your action repertoire. AND, at that point, senior management will be beating a path to your door to begin managing organizational portfolios for the company. Soon, you may become the senior PM!
Review By: Ann E. Drinkwater
09/28/2010
I'm a project and portfolio management junkie. I read everything I can get my hands on related to managing projects, and "Managing Your Project Portfolio" by Johanna Rothman is a must read. The material provides sound concepts and principles while also providing detailed, real-world implementation strategies. Johanna has translated on paper what sounds good to what really works. I could personally relate to each page and found myself eager to turn to the next. She breaks things down with the simplest method: 1) start with your mission, 2) determine the strategic goals to achieve the mission, and 3) tie goals to the strategic goals. By following this process you can better ensure you are working on high value projects. Throughout the book there are citings of other reputable reference materials.
Even though I have studied and applied both lean and agile, the book simplified the key principles of both in an easy-to-apply and common-sense manner. Below are some useful reminders and areas I found especially helpful:
Portfolio decisions should be made by the most senior level management.
Don't use ROI to rank. ROI is a frequently tossed buzzword that is frequently misrepresented. If you can't predict the sales for a given year on a product, you can't calculate your ROI.
Complete the things you begin. The cost of multitasking is high. Multitasking can be difficult when a person must perform two tasks simultaneously, but even when a person switches from performing one task to performing another. Johanna cites a number of sources for reference on this topic.
It is unrealistic to plan work more than a few weeks out. Anything beyond that is really a guess and a waste of time. This doesn't mean you don't know what projects you will be working on beyond a few weeks, but more so the features and specific details of the functionality should be elaborated directly before designing.
Commitment means you have the proper funding and resources to complete a project. If management says they are committed and have not provided the proper amount of dedicated resources, this is not commitment. If you are offered part-time resources, be weary. Context switching will negate the possible benefits of utilizing these part-time resources.
Several interactive methods are described for prioritizing projects. Each approach requires the affected group to make decisions about what is important in comparison to other projects on the table. One exercise includes listing each project on an index card or sticky, breaking down projects into pairs and asking which is first compared to the other. The winner of that ranking is listed at the top of the list. This process continues until you have an ordered list for your top five or so projects. Unless you have a large group of resources, prioritizing a few projects is most realistic. Her example and comparison to an eye exam ("Which one of these is clearest? This one or that one?") is an effective tool for limiting the options and reducing the confusion of too many choices.
The author's informal and no nonsense approach aided in the delivery of content. I'd recommend this book to everyone, from those just starting out in management trying to make project decisions to those in executive leadership positions. Because the concepts and approaches outlined are common sense and applicable in the real world, I believe Manage Your Project Portfolio will soon become a classic go-to management reading.