In the updated edition of this critically acclaimed and bestselling book, Microsoft project veteran Scott Berkun offers a collection of essays on field-tested philosophies and strategies for defining, leading, and managing projects.
Each essay distills complex concepts and challenges into practical nuggets of useful advice, and the new edition now adds more value for leaders and managers of projects everywhere.
Based on his nine years of experience as a program manager for Internet Explorer and lead program manager for Windows and MSN, Berkun explains to technical and non-technical readers alike what it takes to get through a large software or web development project. Making Things Happen doesn't cite specific methods, but focuses on philosophy and strategy. Unlike other project management books, 
Complete with a new forward from the author and a discussion guide for forming reading groups/teams, Making Things Happen offers in-depth exercises to help you apply lessons from the book to your job. It is inspiring, funny, honest, and compelling, and definitely the one book that you and your team need to have within arm's reach throughout the life of your project. 
Image: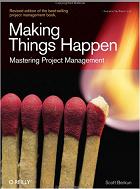 Member Reviews:
Review By: Jennifer Gau
10/26/2009
While the purpose of the book is to cover topics relevant to project management, leading to successful project execution, author Scott Berkun presents information from which everyone can learn something—even if they are not responsible for managing a project. For people new to a project, I would recommend reading chapter two titled, "The Truth About Schedules," to increase an understanding of how schedules are created and "magical deadlines" are formed. For someone new or experienced with managing a project, regardless of project size, I would recommend reading chapters eight and nine on making decisions and communication because this section builds on the foundations of a good project manager. These chapters provide problem scenarios that projects commonly encounter and then suggests approaches to handling some sticky situations. Chapter ten, titled "How Not to Annoy People: Process, Email, and Meetings," is my favorite chapter because I could easily relate to the pointless meetings and bad emails.
Making Things Happen draws extensively from Scott's experience working on early versions of Microsoft products. The book is divided into three main parts: plans, skills, and management—techniques that every project manager should know. Overall, I found this book to be an easy read because each chapter is well organized and clearly written with a touch of humor that made it continually interesting. The chapters are designed so that they can be read in sequence or individually, which makes this book valuable for those of us who never have enough time to read straight through a book. Each chapter contains some theory, examples, descriptions of common problems, descriptions of what can go well, and concludes with a summary and exercises for the reader. I found the exercises at the end of each chapter engaging and good for reflecting upon the presented material. Unlike other books, where you have to hunt for the answer in the preceding chapter, these questions were genuinely thought provoking and applicable to the real world. If this were a book club, the participants would have the beginnings of a great discussion for each chapter, and would probably find an area for improvement.
I have read other project management books, and I found this to be one of the better books that I've read. From each section, I still find at least one takeaway that I can apply in my daily work. This book is an excellent book that everyone on a software project should read—from the team leads and managers to the programmers, testers, and other project contributors.