The first step towards success in a software project is to ensure a professional setup. This includes a metrics-based formal estimation process to ensure a solid foundation for project planning. Accurate estimates require quantitative measurements, ideally tool based. In addition, software project managers must also monitor and update these estimates during the project's lifecycle to control progress and assess possible risks.
Based on their many years of practical experience as software managers and consultants, Manfred Bundschuh and Carol Dekkers present a framework of value to anyone involved with software project management. They present all five ISO/IEC-acknowledged Functional Sizing Methods, with variants, experiences, counting rules and case studies, and they use numerous practical examples to show how to use functional size measurement to produce realistic estimates.
Written in a highly practical style, including checklists, templates, and hands-on advice, and backed up with many pointers to both national and international metrics and standards organizations, this book is the ideal companion for the busy software project manager or quality assurance manager.
Subtitle:
Estimating and Benchmarking Success with Functional Size Measurement
Image: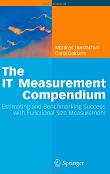 Member Reviews:
Review By: Mary Ann Overbaugh
11/07/2011This book is for project managers, practitioners, process designers, and other hands-on IT workers who must produce project estimates and be able to set, measure, and obtain metrics when creating proposals.
Those tasked with the responsibility to create or document estimation proposals and those who manage end metrics and audits will benefit through utilizing the information in this book. Documented historical data is useful as input to further estimations projects, but it needs to be captured in a database and available in a usable format to benefit future projects. Information in this book was not available in the '90s because the body of knowledge was not well defined or understood. This book demonstrates the growth of the body of knowledge, standardization, techniques, and tools obtained since that point in time.
I appreciate the amount of work taken to complete this book and the thoroughness and detail exhibited within it. It covers all aspects of estimation, measurement, and metrics from A to Z. One aspect not covered in the past but fully developed now is how to estimate quality. I also liked the chapter describing product and process metrics, which establishes some of the measurements to capture.
Approaches to estimation and the supporting tools show how they have been constantly refined and improved, whereas in earlier years these practices were somewhat more theoretical, not well documented, and therefore not used.
This book does not gloss over topics. The writers are technical and detail oriented, as well as very knowledgeable of the topics they discuss. I am glad to see that practices have evolved and historical data are broader and more reliable today. However, this is still a difficult task!
I would recommend this book to those who actually use estimation as part of the regular tasks they perform as project managers. It is a wonderful compendium packed with detailed, useful information on the topics of project development, estimation, and measurement. It demonstrates the complexity of this aspect of project development.