For today's enterprises, few challenges are as daunting as preparing tomorrow's leaders. Mentoring is one of the most powerful tools at their disposal. But not all mentoring programs are equally effective, and not all companies have learned how to sustain mentoring. One company has: IBM.
Intelligent Mentoring reveals how IBM has done it–and offers specific guidance and best practices you can use to achieve equally powerful results. Intelligent Mentoring shows how IBM has fully integrated a diverse portfolio of formal mentoring initiatives into both talent development and innovation promotion.
Whether you're a business leader, strategist, Chief Learning Officer, training specialist, coach, or consultant, this book presents a state-of-the-art framework for making mentoring work. Drawing on IBM's experience, the authors demonstrate how to build a diverse portfolio of effective mentoring programs...use mentoring to strengthen organizational intelligence...build sustainable communities of mentors and mentee promote collaboration across differences...and above all, link mentoring to strategy and use it to sustain competitive advantage.
Image: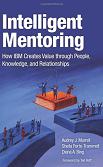 Member Reviews:
Review By: Michael Kahn
10/13/2010
This book, a collection of short essays about IBM's mentoring program, runs on one common theme: effective mentoring is a required component of a company wishing to achieve its maximum potential. Various benefits of mentoring programs are cited such as, improving employee retention, increasing diversity in the workplace, and cross-cultural education, which is taking on an increased importance given today's global workforce.
This book is targeted towards managers, HR professionals, and company leaders who are interested in learning about mentoring techniques from a world-class company such as IBM. The book posits that "an employee does not learn or create knowledge in a vacuum," and thus, mentoring facilitates a social interaction that helps workers learn about their company and its various departments. IBM takes mentoring quite seriously. This book also includes a section on mentoring during periodic employee reviews.
One essay described the use of social networking tools to facilitate mentoring. An internal Web site allows employees to complete a personal profile that includes job roles and skill sets, experience and qualifications, and interests. This allows employees to network and collaborate. Employees can also post if they are willing to be mentors and the type of mentoring they're offering. Conversely, employees can also post that they are looking for mentors who can offer advice, support, and assistance.
Another essay focuses on the positive effects mentoring has on creating and maintaining a diverse workforce. According to the book, retention amongst minority employees appears to have improved as a result of formal mentoring programs, including a program called the Asian Diversity Network Group, which facilitated mentoring between the US and China. This has helped to grow talent in Asia, thus improving IBM's competitiveness in that region.
The book also explores the concept of "reverse mentoring," which is a departure from a traditional "teacher-student" model. Reverse mentoring is a mechanism that allows senior people to learn from younger people. The book mentions that this concept was successfully introduced by GE, whose former CEO, Jack Welch used the technique in the 1990s as a way to have top-level managers learn about the emerging technology of the Internet and tap into the expertise of young people who knew the technology best.
The book provides an interesting glimpse into the culture of one of the leading companies of the world. The book read at a "50,000 foot level" illustrating broad concepts, but is not a "step-by-step" how-to guide on how to implement or conduct a mentoring program. Furthermore, if you are part of a small or medium-sized company, upon reading the book, you may feel that many of the programs are out of reach in such a venue, as some of the programs clearly require considerable resources that most small and mid-sized companies could not afford. However, if you are looking to get ideas about mentoring and its benefits and also gain some insight into the culture of IBM, the book is worth the read.