The second of a two-book series about business intelligence and reporting technology, Integrating and Extending BIRT introduces programmers to BIRT architecture and the reporting framework.
Built on the Eclipse platform, this exciting technology makes it possible for programmers to build and deploy customized reports using scripting and BIRT APIs. In addition, programmers can extend the BIRT framework by building new plug-ins using the Eclipse Plug-in Development Environment.
This book describes the key components of BIRT architecture, applications, and engines, including installing, deploying, and troubleshooting the Reporting and Charting engines in an Enterprise Java application-server environment.For developers who wish to incorporate custom business logic in their reports or access data from Java objects, the book describes BIRT's extensive scripting capabilities in JavaScript and Java.
For developers who want to extend the BIRT framework, the book describes the key extension points to use in creating customized report items, rendering extensions for generating output other than HTML or PDF, and Open Data Access (ODA) drivers for new data sources. The book provides extensive examples of how to build plug-ins to extend the features of the BIRT framework.
Image: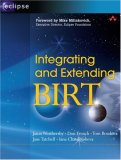 Member Reviews:
Review By: Tilmann Bruckhaus, PhD
07/09/2010
"Integrating and Extending BIRT" by Jason Weathersby et al. discusses BIRT, a powerful reporting platform that provides end-to-end reporting solutions. With BIRT, which is tightly integrated into Eclipse frameworks and platforms, report designers can create and deploy report and integrate reporting capabilities into other enterprise applications. This book is the second of a two part series on BIRT, and the first book in the series is "BIRT A Field Guide to Reporting."
The authors present "Integrating and Extending BIRT" in a clear and systematic style. Although the book does not contain a chapter dedicated to testing BIRT applications, testing BIRT installations, plug-ins, and extensions are discussed throughout the book. Specifically, developers can use Java and JavaScript for scripting in reporting applications for event handling or to create scripted data sources and scripted data sets. Developers can also use BIRT APIs to integrate BIRT functionality into applications. Similarly, developers can use the BIRT extension framework to create report item extensions, report rendering applications, or Object Data Access (ODA) extensions. QA and test professionals will find this information useful to devise test strategies for BIRT applications.
The book is organized into five parts and nineteen chapters, which facilitates quick access to those parts the reader is most interested in. A multitude of tables, code snippets, diagrams, and screen shots visualize and organize the content in an easily accessible manner.