The toughest part of innovation? Accurately predicting what customers want, need and will pay for. Even if you ask the, they often can't explain what they want. Now, there's a breakthrough solution: Innovation Games. Drawing on his software product strategy and product management consulting experience. Luke Hohmann has created twelve games that help you uncover your customers' true, hidden needs and desires.
Image: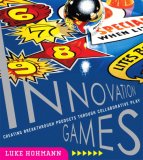 Member Reviews:
Review By: Michelle Carrier
07/16/2007
This book proposes activities called Innovation Games to help communication with customers, in order to get feedback on how they use the product, what is missing, what is useless, and what they are expecting in the future. Each game is explained with a lot of detail, in order to help people determine which one will fit their needs.
Examples of the games include:
Prune the Product Tree: Customers consider your product as a tree and add features as leaves to the existing branch, classified by their needs of those features.
Remember the Future: Customers describe their use of your product but in the future.
Product Box: By designing the product box, customers determine the best selling arguments for your product.
Each game is explained in an individual chapter with the objectives, the overview of the game, the needed preparation and material, the way of playing the game, a lot of concrete examples, and how to process the results. There also are reminders of the importance of preparing all the details of the game and how much work that preparation will represent.
The book gives a lot of indications about the team, how to conduct the game, and errors to avoid, but I'm not sure that it replaces some external help. Considering how expensive can be that experience and the expectations of customers who accepted to take the time to participate, it should be very productive.
This book is not related to quality assurance, but some of the games can be useful for testing purposes. All the games helping to identify what is critical to or expected by customers can help testers prioritize the issues found during tests and help QA analysts create better business-oriented test plans. So, even if there is no real benefit for QA team to instigate those games, to be an observer would be beneficial.