This book delivers all the knowledge and insight you need to succeed with the IBM Rational Unified Process and Solutions. Joshua Barnes presents a start-to-finish, best-practice roadmap to the complete implementation cycle of IBM RUP–from projecting ROI and making the business case through piloting, implementation, mentoring, and beyond.
Drawing on his extensive experience leading large-scale IBM RUP implementations and working with some of the industry's most recognized thought leaders in the Software Engineering Process world, Barnes brings together comprehensive "lessons learned" from both successful and failed projects. You'll learn from real-world case studies, including actual project artifacts.
Whether you're an executive, software professional, or consultant, this book will help you continuously improve the maturity of your development processes–and reap the benefits: better quality, faster delivery, and more business value.
Subtitle:
A Guide to Improving Your Software Development Capability and Maturity
Image: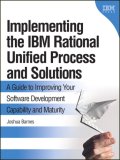 Member Reviews:
Review By: John VanNorman
04/18/2008
This book is an overview for people who are considering becoming a change agent for bringing the Rational Unified Process (RUP) to their company. It may be possible that, in a small enough organization, this book and its contents can be used by a developer or tester. Yet it's my belief that the information necessary to assess the organization and analyze the return on investment are not normally available to the average worker in most organizations of any size. In addition, engendering the executive/management support, while not impossible for the average IT worker, really is more likely to be done successfully by a person who has a history with executive management. As a result, I think this book is targeted to mid- to upper-level management.
Because of the complexity of the entire process, the book gives a basic outline of the process, roles and responsibilities of the players, and recommendations on how to organize such a request. Once the idea of RUP is accepted, what should be discussed is clearly explained, well organized, and adequately justified. The author also provides additional reference where the interested person can obtain more details.
I started reading this book with some speculation if the author would really address the fundamental issues of getting the right people to fill the roles and gain specific knowledge in basic disciplines. Getting the right people, teaching and mentoring the fundamentals of the disciplines, use of certain tools, requirements, and project management is highly stressed in the process detailed in the book. One thing that impressed me is the use of the mentoring process as a process for knowledge transfer. I think this along with just-in-time and specific training to project teams before using the process will go a long way to help make the project teams convert successfully.
The book will be of primary interest to management and high-level non-management interested in implementing the RUP. I am not sure if it can be generalized to be used as a resource in good practices of implementing any other development process. Much of the references of expectations, metrics, etc., seem to be more validated from prior implementations of RUP. Therefore, this book may not hold much value as a general reference book. For those interested in bringing RUP to their organization, it is a good starting place for further research and would be a well-worn reference.
Bringing change to an organization and implementing something like RUP is time-consuming and requires years of dedicated resources in a large organization. In this respect, the author does not delve into too much detail. There are a number of books written on the RUP, change agents, requirements management, the use of the various tools, and other items used in the implementation process. In addition, the author gives references were details can be obtained. There is enough detail to give an interested person an overview of what is necessary and what one should expect.