his new book manages the unthinkable- it conveys crucial technical information to engineers without boring them to tears! In this unique reference, expert embedded designer Lisa Simone provides the solutions to typical embedded software debugging problems from a fresh new perspective. She introduces a team of engineers who readers will recognize from their own workplaces, and then confronts them with real-world debugging scenarios of progressive complexity, drawing the reader into the mysteries with their new fictional colleagues, and guiding them step-by-step toward successful solutions.
Subtitle:
Embedded Debugging Methods Revealed
Image: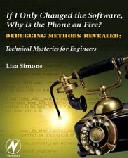 Member Reviews:
Review By: Victor Goldberg, Ph.D.
11/10/2008When I was studying physics-math as an undergraduate, some of my friends complained that textbooks were too verbose. If you are this kind of person, this book is not for you. On the other hand, if you are interested in being exposed to the description of the entire problem-solving environment, the book will either open new windows of understanding or give you the pleasure of reinforcing your perception of the working environment while challenging you to solve the debugging conundrum of the moment.
If a coworker is in the business of embedded systems, I would definitely recommend this book to him. I would also recommend it to those with an interest in technical problem solving, the curiosity for understanding the environments in which problems need to be solved, and the taste for good reading.
This book is written in such a way that if you are interested in debugging embedded systems, you can learn basic and important things, like the importance of proper timing analysis. On the other hand, if you are just passingly interested in technology you can read it as a novel and it will still keep you glued to your chair.
This book is entertaining, informational, and thought-provoking reading for the technically inclined regardless of your skill levels, whether it is basic or sophisticated. The integration of technology, sociology, and psychology gives a comprehensive picture of the embedded debugging working environment.
Each chapter in this book describes a different scenario of technical issues, problems, and solutions in the context of the social working environment. Sometimes the author gets quite personal. The common thread throughout the book is the team of professionals, made of varying levels of seniority (from novice to expert), who confront what seems to be a difficult problem to solve, but through the use of cooperation and logic, eventually find a working solution.