Business analysis is the set of tasks and techniques used to work as a liaison among stakeholders in order to understand the structure, policies, and operations of an organization, and to recommend solutions that enable the organization to achieve its goals. Business analysis involves understanding how organizations function to accomplish their purposes and defining the capabilities an organization requires to provide products and services to external stakeholders. It includes the definition of organizational goals, understanding how those goals connect to specific objectives, determining the courses of action that an organization has to undertake to achieve those goals and objectives, and defining how the various organizational units and stakeholders within and outside of that organization interact. A Guide to the Business Analysis Body of Knowledge® (BABOK® Guide) contains a description of generally accepted practices in the field of business analysis. The content included in this release has been verified through reviews by practitioners, surveys of the business analysis community, and consultations with recognized experts in the field. In less than five years, the BABOK® Guide has been recognized around the world as a key tool for the practice of business analysis and become a widely-accepted standard for the profession, with over 200,000 copies downloaded from the IIBA® website. Version 2.0 represents a major advance on that standard, and will become an essential reference for business analysis professionals.
Image: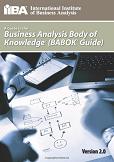 Member Reviews:
Review By: Vivek Vaishampayan
09/12/2011The primary purpose of A Guide to the Business Analysis Body of Knowledge is to define the profession of business analysis, not only for business analysts but for everyone. This book is published by the International Institute of Business Analysis (IIBA), and it is an excellent book for helping businesses do business better.
This guide contains descriptions of generally accepted practices in the field of business analysis. Its current version, 2.0, has become a widely accepted standard as well as an essential reference for business analysis (BA) professionals. The guide will have a very long shelf life until another major advance in BA standards emerges.
The book follows the same pattern as the Project Management Institute Body of Knowledge guide. It is a very well organized book and compiles a lot of information packed with diagrams, tables, and figures. The IIBA has done a marvelous job to keep the very interesting writing style and pleasant presentation throughout the book. This is a must-have guidebook for those who are preparing for IIBA's Certified Business Analysis Professional certification.
It also is an important handbook that will help non-BA professionals, like project managers, developers, systems analysts, testers, and QA practitioners, understand the BA profession and communicate more open-mindedly with BA professionals. I strongly recommend that everyone who interacts with BA professionals reads this guide.
The most interesting fact about the book is its success among readers in creating and developing awareness and recognition of the value and contribution of the business analyst in businesses. The book has nine chapters describing key concepts, tasks that a business analyst must be capable of performing, and competencies and generally accepted techniques in the practice of BA.
It would have been nice if the authors had included some of the possible shortcomings, challenges, caveats, and hurdles a business analyst may encounter. This would help business analysts and other professionals during various interactions and communications in performing any kind of business to bring that synergy all are looking forward.
The description of various business-management-related processes with nice diagrams, explanation of inputs and outputs, as well as techniques blend very effectively in this guidebook. The book serves as a baseline that practitioners can agree upon to effectively perform the role of business analyst. The practices need to be adapted to each business based on its nature, risk, and doing business as is. The book provides guidelines but can't teach the best course of action for an individual business, which comes only after years of experience.