As the technology leader at a small software company, you need to focus on people, products, processes, and technology as you bring your software to market, while doing your best to put out fires and minimize headaches.
Growing Software is your guide to juggling the day-to-day challenges of running a software company while managing those long-term problems and making sure that your business continues to grow. With practical, hands-on advice, Growing Software will teach you how to build and lead an effective team, define and sell your products, work with everyone from customers to CEOs, and ensure high-quality results.
Instead of learning by trial and error, you'll benefit from author Louis Testa's 20+ years of management experience. Testa combines big-picture advice, specific solutions, and real-life anecdotes to teach you how to:
Work effectively with your CEO and executive team
Improve development team efficiency and enthusiasm
Evaluate your software methodology to improve effectiveness and safeguard against failure
Use product prototypes to bridge the gap between marketing and engineering
Defuse technology time bombs
Whether you're new to managing software or newly lost, Growing Software will help you and your growing company thrive.
Image: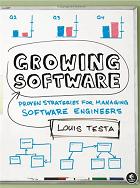 Member Reviews:
Review By: Debra Martinez
01/18/2010
This is a great book for QA or development managers, as it goes into detail about how to build a good team. I enjoy the section on work environments that work best for teams. The author gives a detailed explanation as to why open spaces and cubes don't work and how to improve the work environment for your team. I think that the author's arguments and advice should help managers develop a team atmosphere that is best for their whole team.
There is also a great section on listening to your customers. I was really happy to see this in the book since my company is currently focused on this. As we develop our products, we should consider what the customer thinks of these products and how they will use them. The author does a great job of showing how to do this.
I feel this book can do a good job of helping someone who is new to the management field and also for someone who is involved in interviewing someone. The author has a whole section dedicated to interviews in the book and breaks the process down so that it is easier to interview someone.
There is only a small section on understanding quality assurance, but the author does show how development and QA have to work together to deliver a quality product. I just wish that more of the book was dedicated to QA.
Regardless, this is a good book for beginners in the management field or for someone who is looking to move into management. I would recommend this book to those people. This book should have a long shelf life and can be a great resource to many.