The new editorial of this respected text continues to provide students the information they need to fully grasp the complex issues in cyberethics that computer and noncomputer professional alike need to navigate the challenging waters of cyberspace. Each chapter is updated with new examples and scenarios to provide the most current information.
Image: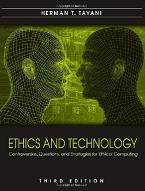 Member Reviews:
Review By: John Snuggs
06/29/2011Ordinarily, I wouldn't choose to curl up with a textbook. But, I find ethics in general to be an interesting topic and particularly computer ethics.
The author starts by discussing different frameworks for evaluating ethical questions. I never considered that ethics issues could be evaluated from so many different points of view. He considers cyberethics from three distinct perspectives: professional ethics (i.e., what is ethical to an IT professional); philosophical ethics, including social policies; and sociological/descriptive ethics.
I found the reading to be very interesting and thought provoking. Each chapter includes a set of review questions, but I decided not to assign homework to myself and perhaps missed out on the opportunity to get even more from the book. My favorite parts were the scenarios where the author describes a real-world issue and the resulting impacts of the story, including laws that have changed.
The book covers a wide range of issues, including: intellectual property, use of cookies by websites, and whether blogs are public and whether they are protected as free speech. If you have an interest in these topics or ethics and technology, I recommend this book for you—especially for group study. The scenarios deserve to be discussed and debated, so perhaps you can get some friends to read it together.