Do you know what is the real cost of your software? Before you reach for a calculator, be forewarned that it's a trick question. Even technology industry analysts and seasoned IT executives have difficulty putting a hard figure on the Total Cost of Ownership (TCO) of today's enterprise application solutions. What makes the equation so tricky is the sheer number of variables that must be factored in, many of which cannot be lined up in a neat column and reconciled, such as issues of security, availability, performance, problem resolution and change management. The End of Software: Transforming Your Business for the On Demand Future, by Dr. Timothy Chou, is a groundbreaking book for business managers and executives that challenges conventional approaches to business software, and proposes new alternatives to managing and maintaining the systems that companies depend on.
Image: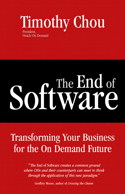 Member Reviews:
Review By: Cyndee Schwartz
03/25/2005"The End of Software" is a problem/solution-oriented discussion of the escalating costs of large scale business systems configuration and management. The focus is on corporate network infrastructure, and the dialog is directed toward IT administrators/decision makers analyzing the benefits of outsourcing not only their IT service requirements, but the actual applications, and application servers.
Timothy Chou's writing is an easy read, and he uses real-life success stories to illustrate each topic. The book is packed with information covering the rising cost of corporate software packages, security issues, performance problems, and process improvement. Chou leans towards automation of performance and problem management.
The first two chapters delve into cost justification, explaining why the management cost of corporate information systems has risen so much. According to the author, $1 trillion per year is spent on existing software management, leaving no room in corporate budgets for new system development. Chapter two introduces outsourcing as a viable system solution, using the example of IBM Global Services, and Oracle's own "Oracle on Demand" product. In chapter four, he discusses performance problems and solutions, using server virtualization, and grid computing to optimize the performance of the existing equipment.
The remainder of the book goes briefly into security issues, change management, and reliability – including the impact of software defects, which are estimated to cost the U.S. economy about $59.5 billion annually as stated in chapter seven. This is where the discussion moves into software development and quality improvement. Problem management begins with the software development process, and Chou is a firm believer that developers need to move away from "people-powered" processes and automate as much of the testing/inspection portion as possible.
I would recommend this book for an IT manager looking for an outsource solution to the high cost of IT maintenance. If you want to know what Oracle's "On Demand" is all about, then definitely read this book. The author does cover the competition, such as IBM Global Services and some of the new boys on the block like SalesForce.com and RightNow Technologies, but most of the meat is given to Oracle's services.
Mr. Chou is definitely a proponent of automated testing, but his focus is more on the code review that is normally done manually by an engineering peer. He believes that quality begins with the development process, but his solution is not to improve the people processes. His solution is to remove people from the equation and have computer-driven analytical programs evaluate the quality of the code.
Chou does admit that the system will still not be perfect. Testing programs are written by people, therefore mistakes will happen. But, he also believes that outsourcing software, following the software on demand model, is the "silver bullet for improvement in software productivity." He also believes that software on demand is going to be the standard operating procedure company systems, with cost being the only question.
This is a problem/solution discussion of the escalating costs of business systems configuration and management for large businesses. Chou's writing is an easy read, using real-life success stories to illustrate each topic. The book is packed with information covering the rising cost of corporate software, security/performance issues, and process improvement.