A practical field guide to the practice of scrum, an agile software project management methodology.
Image: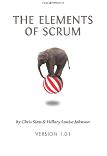 Member Reviews:
Review By: Warren R. Glore
01/04/2012Except for the introduction, titled "A Week in the Life of a Scrum Team," The Elements of Scrum is a well-written book that takes the reader through the very basics and essentials needed to be effective in an agile environment. It starts off very slowly and seems a little cheesy (maybe by design) as the introduction tries to lead the reader to conclude that if a team uses agile, the project owner will be "sitting back, relaxed and happy, whistling while he works." In a dream world this might be true, but even in agile there will still be problems to overcome and a lot of hard work to perform.
I found the history of Scrum in the first chapter to be very enlightening. It is well thought out and presented in a manner that can be easily understood by all. After spending the past two years on an agile Scrum team, it was nice to finally know the who, what, when, where, and why of agile, including the names and places where the agile processes were born.
Chapter 1 introduces the Agile Manifesto, a document I knew nothing about until reading this book, along with a fair amount of statistics that make a very convincing case for switching to the agile method. The book clearly illustrates the differences between the traditional waterfall method and the agile approach of software development. I'm also impressed with the hand-drawn illustrations and charts used throughout the book. They add to the flavor and make it easier to read and understand.
The book teaches the paper methods of agile techniques using post-it-notes and wall boards and ignores "modern" agile methods using software. Most organizations I know of that are using agile techniques today have done away with paper and wallboards and made the move to paperless, computerized programs written just for agile. However, the authors do a great job of explaining the whys and methods needed to create, track, and solve the epics and user stories to gain a workable software solution at the end of each and every sprint.
Overall, this is a good book that should be included in the library of any person who currently works with or is considering working on an agile team.