Get ready for a more robust approach to project management--one that recognizes the project environment and adapts accordingly. This resource first introduces you to the tools, templates, and processes that you'll need in your toolkit. You'll then explore five different project management life cycle (PMLC) models for managing a project: Linear, Incremental, Iterative, Adaptive, and Extreme. Along the way, you'll find step-by-step guidance on how to apply each technique. All of this will give you a complete understanding of how to successfully complete projects on time and within budget.
Image: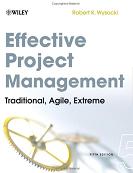 Member Reviews:
Review By: Scott Brookhart
11/18/2011I have been a project management professional since 2004. My focus is generally software engineering oriented, but I realize that projects don't get done without appropriate project management. The art and science of project management is progressing to meet the demands of current processes. The fifth edition of Effective Project Management: Traditional Agile Extreme is a great handbook for better understanding these methods of moving through projects effectively.
Author Robert Wysocki is quite knowledgeable in the topic but does not pretend to be a know-it-all. He has listened to feedback from previous editions to improve this one. He has somewhat followed the PMI approach (scope, plan, launch, monitor, and close) to succinctly explain general project management. The added value of this is that the hands-on tools and approaches make this book more of a working model than an abstract account.
After addressing the general project management guidelines, Wysocki explains traditional, agile, and extreme methodologies. Part 3 of the book provides guidelines on project management infrastructure, a project support office, a portfolio management process, a continuous process improvement program (not easy to do, but very beneficial if effective), distressed projects, and multiple-team projects. The book then ends with how to put it all together.
A project is a unique experience that has a beginning and an end. Finding effective strategies to navigate through tasks, resources, and teams is not always easy, and direction may be fuzzy. Sometimes our experience does not lend itself to accomplishing these projects when there are deadlines, schedule pressures, and resource issues. Our customers expect the very best, but are not always aware of all of the behind-the-scenes issues that may occur. This is why I find this book so compelling and an appropriate resource for project managers—even experienced ones, and particularly experienced project managers who may not have looked at the latest literature to see how they may be able to perfect their craft in the turbulent world of projects.
Review By: Arvind Pal Singh
11/18/2011This book authored by Robert K. Wysocki is a classic. I highly recommend it to experienced project managers (PMs) as well as budding managers or management students. The fifth edition is a comprehensive collection of the best practices and tools for the different PM approaches. Thus, the book should have a longer shelf-time than its contemporaries.
Personally, this book is a great tome of the different approaches. It would serve MBA students and PMP aspirants well due to its cohesive contents. Even better, the book offers clear guidelines on how to use a particular methodology for a specific project. Not many books in this category have picked up a topic and broken it down into as much details as done in this book.
I found parts three and four tremendously informative. These parts offer good advice to any organization interested in building a support office. Organizations without an established or non-functional support office will also find tips for improvement in this book so that these offices can play their important and required role within the organization. The book also helps pin-point the hindrances towards success of a project. Once you overcome these hindrances, one can expect better probability of success. Wysocki's epilogue provides good information for a novice who wishes to understand the organizational structure, roles, and responsibilities.
Wysocki presents complex information in an easy-to-read language backed by good examples. He even moves beyond a simple PM and enters into portfolio management and continuous process improvement domains with equal ease. Experienced managers or anyone wishing to enter into this profession can use Wysocki's concepts. I strongly recommend companies include this book in their libraries, especially in PMO offices. And without any hesitation, I recommend this book to my coworkers.
I like that this book is well organized and well written. I look forward to Wysocki writing a book of similar standard for program management or PgMP preparation.