Leading companies that are positioning themselves for the future rather than the present are asking the project managers to participate in project selection, scoping, and estimation as well as management. Delivering Exceptional Project Results offers a glimpse into the future role of the project manager.
Image: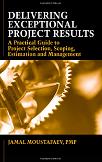 Member Reviews:
Review By: Victoria Masterson, PMP
01/10/2012I really enjoyed Delivering Exceptional Project Results. For a technical book, it was a surprisingly easy read. I wasn't sure I would like the historical project examples referenced, but they were very relevant to the topic and memorable for driving home the point of each chapter.
From my personal experience, this book was right on target when explaining how large corporations with a project management structure handle the project selection process through implementation. I agree with the author that project management has evolved in the industry. Additional skills are needed for the project management toolbox to keep in step with influencing the upstream processes, thus ensuring delivery of exceptional project results.
I would recommend this book for new project managers because it contains a wealth of solid project management knowledge covering the lifecycle of a project. It also gives a good explanation of project portfolio management. I would also recommend the book to experienced project managers because it is a great overall reference for critical success factors within their own projects.