Defining and Deploying Software Processes provides expert guidance that allows you to create efficient and effective processes that let you better manage project schedules and software quality. The author's organized approach details how to deploy into your company culture processes that are embraced by employees, and a Web-based process architecture that is completely flexible and extensible. Divided into four sections, the book defines the software process architectural model, then explores how this model is implemented. It also examines the use of the model, and discusses deployment of the model into an organization.
Image: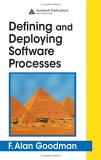 Member Reviews:
Review By: Scott Brookhart
12/11/2006I enjoyed reading "Defining and Deploying Software Processes" to get an understanding of the process presented, and I found it easy to reference the sections of the framework to understand how the process works together. The author obviously has experience in the software field and working with software processes and has ideas for improving the process based on this experience. He points out that there is a need for more organizations to adopt processes in order to succeed, where a process is represented by levels (authority, repeatable, implementation, and support). The book also covers how these levels fit into the overall software process and why they are important.
I felt during some parts that the author's experience could have provided more detail. For example, the section on metrics and estimation, which is an important part of making adjustments to a process, is short and vague. In other parts of the book (the beginning, for example), the author rambles a bit and offers discussion that has little relevance. I would have liked more relevant case studies and a link to a Web site where I could get the related forms and content. The intent of the book is to provide a familiar background for readers to follow, but I would have enjoyed a case study scenario to explain that intent. In this day of Internet connectivity, and with the book's references to tools and forms, it would have been nice to provide these tools to the reader via the World Wide Web.
"Defining and Deploying Software Processes" would be stronger as an easy-to-follow how-to guide. While it has appropriate material for those who are less process inclined, someone coming out of the project management study with some software development lifecycle and a dash of CMM will clearly see from where the content of this process was derived.