This is not a book about software project failure, or about prescriptive thinking about how to build software better. This is a book about the evil things that happen on computing and software projects—what the kinds of evil are, how they manifest themselves, and what the good guys can do about them.
In this timely report on vice at every level of software project management, industry experts Johann Rost and Robert Glass explore the seamy underbelly of software engineering. Based on the authors' original research and augmented by frank insights from other well-respected figures, The Dark Side of Software Engineering consists of anecdotes about occurrences of the practices, an analysis of research findings in the context of the anecdotes, and some suggestions on what to do about the dark side. Discussions draw from the software and information technology literature and from the management literature specific to these topics.
Image: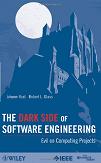 Member Reviews:
Review By: Dimitry Feigin
09/30/2011The Dark Side of the Software Engineering is a result of research funded by IEEE. It is a reference book full of data and anecdotes about the seven "dark" impacts to software projects and companies: subversion, lying, hacking, theft of information, espionage, disgruntled employees and sabotage, and whistleblowing. The book mainly focuses on reporting facts and doesn't try to research the reasoning behind these impacts. The authors try to provide some guidance, but they don't emphasize it.
To newcomers to the industry, this book may be eye opening. To others, it may confirm their feelings as to why their projects and companies have failed and comfort them by showing that they are not alone. Against a background of major financial scandals, the software dark side may seem not to be as big an issue. However, the book provides a global view of the problem, and the scale and the different aspects of the problem are concerning.
One surprising observation is that the general public already widely accepts some of the software "dark side." It shows that in the recent years, the bar for the honest behavior has lowered significantly. News is spreading fast, and quite often reports serve to smooth out the "dark" side by trying to stay neutral.
The book may not be deep enough for security specialists to take it seriously, but it can be a good resource for management education and legal institutions. It can warn some project managers and leaders about the problems and may help them to identify those problems early.