In the past, an organization's technical methodologies were expected to fulfill project management process needs. However, they sometimes fell short of applying what is known today as "professional project management" concepts and practices. Written by one of the nation's most highly regarded project management mentors, The Complete Project Management Methodology and Toolkit delineates a "business-relevant" methodology that can be introduced across different industries and business environments.
The book describes the ProjectPRISM™ Project Management Methodology, an innovative, matrix-based approach to conducting project management that introduces relevant concepts, practices, and tools in an effective project management solution. Aligned with common business practices, Gerard Hill's method demonstrates how to develop project plans, keep on schedule, manage budgets, maintain areas of responsibility, and evaluate a project's progress from concept to completion. The text also offers insight for customizing the methodology to meet the unique needs of individual organizations.
Project management has emerged as a professional discipline and is coming into the mainstream just when it appears to be most needed in the business environment. Demonstrating that project management, in many ways, is business management, the author provides an exceptional foundation for creating a fine-tuned project management practice and a relevant business solution for every organization.
Image: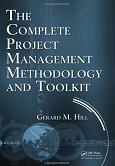 Member Reviews:
Review By: Gerry Thompson
11/15/2010This book by Gerard M. Hill is written for project managers who already possess a basic level of competency in project management. The book is an excellent shelf reference and provides the tools needed to begin implementing your own project management methodology on a companion CD. The author has developed the ProjectPRISM™ Project Management Methodology for the purpose of integrating organizational business needs and interests into the project management lifecycle. By fully integrating into the business environment, all stakeholders in a project are included in project planning, execution, and review. Benefits of implementing the methodology include standardizing the approach to the practice of project management, creating effective business communications and reporting mechanisms, using state-of-the-art project management practice, and enhancing business benefits.
The author begins by describing detailed process elements that must be deployed for successful project management. As with all complex business models, business needs and approaches may vary for each organizational unit. The author does not promote a monolithic approach, but rather offers alternatives appropriate for a variety of different business climates. Executive management support must be sought and assigned as a first step. Integration into the business process of a company is an underlying theme in the ProjectPRISM™ Project Management Methodology, thus hopefully enabling success. Profiles are created for customers, staff, business units, and vendors contributing to the project. Project plans for each profile are subsequently flushed out. Performance criteria is also established. Finally, processes for post-project evaluation are created. Next, the author describes the project management lifecycle in great detail.
The book is well organized and easy to use as a reference for ongoing project management. The author details the following elements of project management methodology: initiation, selection including making the business case and allocating resources, planning, estimating, work plan, risk management, tracking and controlling, quality assurance and acceptance, contract management, staffing, communication, vendor relations, customer relations, business management, and project closeout.
The companion CD contains ninety-six templates that can help implement the ProjectPRISM™ Project Management Methodology. Readers can edit and save new versions of the PDF templates so one can hit the ground running when managing a complex, project management matrix. Several different implementation paths are represented in the templates. The book contains the template presented on the CD. Perhaps a more useful way of delivering this information in the book would have been to perforate the pages for easy removal. Since it is difficult to copy forms from a book, the usefulness of the printed templates is limited.
Overall, The Complete Project Management Methodology and Toolkit, by Gerard M. Hill is a valuable reference and guide for project managers who wish to implement the ProjectPRISM™ Project Management Methodology.