CMMI® for Services (CMMI-SVC) is a comprehensive set of guidelines to help organizations establish and improve processes for delivering services. By adapting and extending proven standards and best practices to reflect the unique challenges faced in service industries, CMMI-SVC offers providers a practical and focused framework for achieving higher levels of service quality, controlling costs, improving schedules, and ensuring user satisfaction.
This indispensable book comprises both an introduction to the CMMI-SVC model and an authoritative reference for it. The contents include the complete model itself, formatted for quick lookup. In addition, the book's authors have refined the model's introductory chapters; provided marginal notes to clarify the nature of particular process areas and show why their practices are valuable; and inserted longer sidebars to explain important concepts. Brief essays by people with experience in different application areas further illustrate how the model works in practice and what benefits it offers.
The book is divided into three parts.
Part One begins by thoroughly explaining CMMI-SVC, its concepts, and its use. The authors provide robust information about service concepts, including a discussion of lifecyles in service environments; outline how to start using CMMI; explore how to achieve process improvements that last; and offer insights into the relationships among process areas.
Part Two describes generic goals and generic practices, then details the complete set of CMMI-SVC process areas, including specific goals, specific practices, and examples. The process areas are organized alphabetically by acronym for easy reference.
Part Three contains several useful resources, including CMMI—SVC-related references, acronym definitions, a glossary of terms, and an index.
Whether you are new to CMMI models or are already familiar with one or more of them, this book is an essential resource for service providers interested in learning about or implementing process improvement.
Image: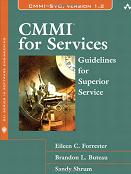 Member Reviews:
Review By: John Snuggs
08/31/2010This book, a complete and thorough reference for the CMMI for Services, includes a broad overview of the CMMI and CMMI for Services models. CMMI is a set of principles organized into a framework that facilitate process definition and improvement. The CMMI for Service model describes the common features among service areas or service organizations.
The initial chapters introduce and provide background on the CMMI with specific information about the process areas and how to get started. An additional chapter devoted to essays about CMMI really helped me understand how to fit the book into my role as an agile coach and project manager. There are essays that describe many topics including: how CMMI for Services can map to a legal organization and whether services are agile. I found this section to be quite unique and a valuable part of the book.
The book continues with twenty-five chapters covering nearly 450 pages about each of the goals, practices, and practice areas. This portion of the book reminds me of the PMBOK—very thorough but not something that I would read for pleasure. It is a strong reference and can be used to ensure that practices like incident resolution and prevention are fully addressed.
The authors' thorough introduction to these topics is sufficient enough to nudge any reader with interest and virtually any background to approach the goals, practices, and process areas. I expect the material is valuable to novices, but unless they have a specific goal or an individual mentor, the book may be difficult to read. The suggestions may also be too difficult for a novice to immediately apply.
I will pull this book off my bookshelf when I need a refresher about CMMI for Services and when I have doubts about whether we are addressing practice areas adequately. It has all the information about what and why we should do things. I will also share this book with my colleagues who are documenting the process for service delivery. To this endeavor, the information in this book will prove helpful as we increase our organizational maturity.