Increasingly, both commercial and government organizations are acquiring key software, systems, and IT functions instead of building them. Yet all too often, the technology solutions they purchase cannot be sustained successfully. Now there is a comprehensive solution: the CMMI for Acquisition (CMMI-ACQ) model, which connects the widely adopted CMMI 1.2 framework with established industry best practices for acquisition and outsourcing.
This book is a practical introduction to the initial CMMI-ACQ and its use in all phases of technology acquisition. Developed under the leadership of the Software Engineering Institute (SEI) and General Motors (GM), the CMMI-ACQ combines CMMI's successful process discipline with techniques proven to work in GM's own extensive outsourcing program. Reflecting the unique insights of key players in the development and early implementation of the CMMI-ACQ, the book covers the entire acquisition project lifecycle, presenting real-world stories as they might occur in your own organizations, insider experiences, tips, tricks, and pitfalls to avoid.
The topics discussed here include: determining when outsourcing is and is not appropriate; developing acquisition strategies and aligning organizational structure with them; capturing accurate requirements; specifying realistic design constraints; writing effective RFPs; selecting, managing, and collaborating with suppliers; negotiating contracts; managing risk; and "measuring for success."
CMMI for Outsourcing® will be valuable to any organization that wants to achieve better results from technology acquisition. It will be especially helpful to organizations already involved with CMMI-related process improvement and to companies that partner with them.
Image: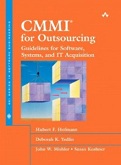 Member Reviews:
Review By: Victoria Masterson, PMP
04/27/2012
This book contains an intense review of everything there is to know about outsourcing work for your IT projects. I probably will have to read it again to grasp all that the book delivers. It is structured like requirements, which was lost on me when I started reading the book.
I really liked how in the book managers from different companies share their experiences and their perspectives based on the roles they play in the outsourcing process. That structure gives great insight into how each person and company handles procurement and the lessons learned from their experience.
I have to say I was shocked to see Wikipedia used as a source for one definition. If youngsters in school aren't allowed to site Wikipedia as a source, I would not expect any book—let alone a technical one—to use it as a source.
Overall, I would recommend the book for experienced managers handling outsourcing, because the book gives great detail for each step of the process as well as good insight for process improvement implementation. Also, I would recommend the book to new managers, since it covers the process from start to finish with good insight for things to think about even if you are just starting out with outsourcing.