CMMI-ACQ® (Capability Maturity Model® Integration for Acquisition) describes best practices for the successful acquisition of products and services. Providing a practical framework for improving acquisition processes, "CMMI-ACQ" addresses the growing trend in business and government for organizations to purchase or outsource required products and services as an alternative to in-house development or resource allocation.
Modeled after CMMI®, Second Edition, which documented CMMI for Development, this book is the definitive reference for the current release of CMMI for Acquisition (version 1.2). In addition to the entire "CMMI-ACQ" model, the book includes tips, hints, cross-references, and other author notes to help you understand, apply, and find more information about the content of the acquisition process areas. The authors also have added two chapters to illustrate the application of CMMI-ACQ in industry (a case study from General Motors) and government. Whether you are new to CMMI models or are already familiar with one or more of them, you will find this book an essential resource for managing your acquisition processes and improving your overall performance.
The book is divided into three parts.
Part One introduces CMMI-ACQ in the broad context of CMMI models, including essential concepts and useful background. It then describes and shows the relationships among all the components of the CMMI-ACQ process areas, and explains paths to the adoption and use of the model for process improvement and benchmarking. Finally, two separate chapters describe special acquisition needs in a government environment and real experiences with CMMI-ACQ from industry.
Part Two first describes generic goals and generic practices, and then, in twenty-two sections, details each of the CMMI-ACQ process areas, including specific goals, specific practices, and examples. These process areas are organized alphabetically by process area acronym to facilitate quick reference.
Part Three provides several useful references, including sources for further information about CMMI and CMMI-ACQ, acronym definitions, a glossary of terms, and an index.
Image: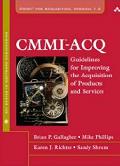 Member Reviews:
Review By: Ed Weller
08/10/2009If your organization's products or services depend on acquisitions from a third party, this book will help you. Effective management of outsourcing or acquisition requires a careful blend of internal processes with control and monitoring of your supplier. The CMMI®-ACQ model has twenty-two process areas. Sixteen of them are CMMI Model Foundation process areas that cover project management, process management, and support. These sixteen areas are essentially the same as in the CMMI-DEV, with appropriate changes to accommodate the acquisition focus. Project planning, numerous examples, and cross references to the six process areas specifically addressing acquisition have been changed or added. Sidebar annotations of HINTs, TIPs, and X-REFs emphasize the elements of the model and their relationship to acquisition. Of particular note is "Acquisition Requirements Development" that has been included in Level 2, compared to Level 3 for requirements development in the CMMI-DEV, thus emphasizing a critical element of the customer-supplier relationship.
The organization of the book follows the CMMI-DEV format: an introduction describing the model components and their relationship, a chapter on using CMMI models for program improvement and appraisals, and two chapters relating the use of the ACQ model in government and industrial settings. This material is about twenty-five percent of the book and is as important to read and understand as the actual model. This is the how and why behind the model development, and I find it interesting that one of the authors was a test pilot who no doubt had an interest in how well the software and systems were designed, implemented, verified, and integrated.
One of the frequent criticisms of the CMMI-DEV model I've seen is "It is boring, difficult to read, and poorly written" using contemporary writing styles. This is a technical book, and the model sections are essentially requirements statements, thus demanding good technical writing (e.g., use the same words to mean the same thing when used in multiple places, outline format where appropriate, cross-references when needed, etc.). Readers who recognize the need for consistent terms and structure will understand and appreciate the need for the organization and style of this book.
The most important statement in the book is "Acquirers should use professional judgment and common sense to interpret this model for their organization." It is not a cookbook, it is not a process, and it certainly is not a checklist of steps or actions. As with past CMM or CMMI models, this book is aimed at large projects. (One might even say mega-projects.) Applying it to outsourcing of one to two person-year projects will definitely require common sense.
I can think of several projects I have worked on in the past where this book would have saved valuable time and prevented problems in relationships with suppliers. I would highly recommend it to anyone whose product or service depends on a supplier relationship.