Great management is difficult to see as it occurs. It's possible to see the results of great management, but it's not easy to see how managers achieve those results. Great management happens in one-on-one meetings and with other managers--all in private. It's hard to learn management by example when you can't see it. You can learn to be a better manager--even a great manager--with this guide. You'll follow along as Sam, a manager just brought on board, learns the ropes and deals with his new team over the course of his first eight weeks on the job. From scheduling and managing resources to helping team members grow and prosper, you'll be there as Sam makes it happen. You'll find powerful tips covering:
Delegating effectively
Using feedback and goal-setting
Developing influence
Handling one-on-one meetings
Coaching and mentoring
Deciding what work to do--and what not to do
...and more.
Full of tips and practical advice on the most important aspects of management, this is one of those books that can make a lasting and immediate impact on your career.
Image: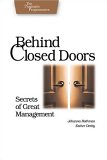 Member Reviews:
Review By: Lee Copeland
02/24/2007It took me fifteen years of trial and error (mostly error) in my management career to discover the wisdom presented in "Behind Closed Doors: Secrets of Great Management." Johanna Rothman and Esther Derby (J&E) introduce us to Sam Morgan, the newly appointed director of development, and his staff. Through a number of scenarios, they show how Sam uses the skills they describe.
Sam begins his first few days on the job learning about his people and their work. J&E believe that when you enter a new position the three most important things to learn are: the people and what they are working on, the mission of your group and how it provides value, and the place of your group within the larger organization. One tool to accomplish this is a weekly one-on-one meeting with each of your direct reports. While these meetings provide a venue for coaching, feedback, career development, and reporting, their most important benefit is that they show that you care about your people, not just collectively, but individually.
After initiating his learning process, Sam seeks to bring order to the chaos in his department. He does this in three steps: understanding what everyone is working on, articulating priorities, and working only on things that support the goals of the group and the organization. J&E recommend using the Big Visible Chart--a chart that shows the work to be performed, its priority, who's assigned, and its current status. Keeping things visible helps to root out work that doesn't support your goals. J&E also recommend creating a Not-To-Do list that itemizes things you've been asked to do or have done in the past that take away from our real objectives.
J&E give excellent advice on giving feedback. Good feedback is specific. Statements like "Great job" and "Well done" do not give people real information about their actions. Statements like "I appreciated the way you interviewed the staff and took all of their viewpoints into consideration" describe the behavior you would like to see repeated, while "Calling all developers idiots in the meeting this morning does not build bridges between us" describes behavior that is counterproductive.
Great management requires coaching--the day-by-day guidance, suggestions, questions, and feedback that help people do better. J&E give this example:
Ginger: "They irritate me. They don't understand the impact of what they are asking us to do."
Sam: "Have you ever told them?"
Ginger: "They should know.
We often find this behavior--expecting others to be mindreaders. Sam suggests to Ginger that "they" may not understand and that she could tell them. J&E (through Sam) ask Ginger to consider under what circumstances "their" behavior would make perfect sense? A wonderful approach to problem solving when we observe bizarre (to us) behavior is to ask, "Under what circumstances would that behavior be reasonable?" It's a simple but marvelous tool.
J&E next let us in on a great secret: Some problems are not problems with individuals; they are problems with the system within which the people work. As such, the rewarding or punishing of individuals will not have a significant effect on curing the problem. If the system is creating the problem, then the system must be changed. And systems can only be changed by groups of people, working together; they cannot be changed by individuals. And, because we work within the system, we are often blind to its problems or how to fix them.
As Sam progresses, he becomes more aware of the need to manage himself. J&E suggest that awareness of our physical mannerisms can be the first step. Notice what triggers physical and emotional reactions. Rather than react, choose your response. Don't be a slave to your past; create your present and future, and manage your emotions. Finally, ask for feedback about how you appear to others. J&E quote Jerry Weinberg: "People who cannot or will not manage themselves should not manage other people."
Finally, J&E help Sam deal with corporate realities without rolling over. Too many managers' vocabularies contain the phrases "We'll try," "We should be able to do that," "Let's hope for the best," "We'll have to make do," "We'll multitask," and "We'll find the resources somewhere." It's time to stop this madness. Instead, try these phrases: "I don't know how to achieve that," "I won't promise something I know I cannot deliver," and "I will work with my team to see what we can achieve."
Johanna and Esther have created a marvelous summary of great management practices. A word of warning, though: As you read this book you'll say, "Of course, I'll start doing that." Just know that it takes concentration and commitment to make these practices work. Keep this book close by. You'll want to refer to it often.