Successful software depends as much on scrupulous testing as it does on solid architecture or elegant code. But testing is not a routine process, it's a constant exploration of methods and an evolution of good ideas.
Beautiful Testing offers 23 essays from 27 leading testers and developers that illustrate the qualities and techniques that make testing an art. Through personal anecdotes, you'll learn how each of these professionals developed beautiful ways of testing a wide range of products—valuable knowledge that you can apply to your own projects.
Image: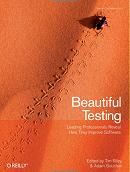 Member Reviews:
Review By: Garry Archer
08/03/2010I'm in the midst of developing and testing my latest Web project which made reading this book a very interesting and informative read. Since testing is performed in a variety of ways according to the criteria of the build, the readers of Beautiful Testing will see many varied approaches within its twenty-three chapters presented by twenty-seven different people, including a chapter from each of the editors.
Each chapter encapsulates a short story of each author's experiences on how he dealt with testing in a past job experience. This adds a down-to-earth flavor to the whole concept of testing. Each chapter is a real user's experience. I would recommend to all reading the book, except for novice testers. (Then again, they have to get their feet wet sometime.) Beautiful Testing contains loads of hints about testing, what to track and how, and what to report or analyze. The list goes on. Who knows, you may find a scenario within this book that mimics some test scenario you've run into in the past or maybe even presently working on. You will feel like you are right there with the authors toiling through their many trials and tribulations that come with debugging and testing code.
Overall I found the book factual, interesting, and quite entertaining. The editors went to great lengths to get many messages across to the reader. It is nice to see that you are not the only one who slaves for hours over what seem to be little bugs or, shall we say, glitches in code.
I found the section on automated testing to be interesting, although many of the other chapters were equally informative an exciting to read. I suppose if I had to change anything in the book, it wouldn't be to rewrite it but rather to include a companion CD, Web links to downloads and helpful sites, and maybe some white papers from their studies. As long as there are programs to be coded, there will be tests to be done. Thus this book will have a fairly healthy shelf life. Beautiful Testing is worth the read!
Review By: Harry L. Kirkpatrick
08/03/2010This book is a collection of twenty-three essays from twenty-seven leading testers and developers. They illustrate the qualities and techniques that make testing an art. I enjoyed how they were able to weave their personal anecdotes and experiences to keep the reader interested with the material. The book contains manifestos, detailed case studies, touching experience reports, and war stories from the trenches. The book is divided into three sections: 1) Beautiful Testers 2) Beautiful Process 3) Beautiful Tools.
The first part of the book explains how testing is an inherently human activity; someone needs to think of the test cases to be automated, and even those tests can't think, feel, or get frustrated. Beautiful testing therefore starts with the human aspects of testing, whether it is the testers themselves or the interactions of the testers with the wider world. The second and largest section of the book covers the testing process. Part three of the book concludes with tools that help testers do their jobs more effectively.
Here's a list of some of the things you will learn in Beautiful Testing:
Testers think differently than the rest of the IT team
That beautiful testing satisfies stakeholders
How to manage bugs and measure test case effectiveness
Beautiful XMPP testing
Beautiful large-scale test automation
Change-centric testing
Test-driven development: driving new standards of beauty
No story is "done" until it's tested
Beautiful testing is efficient testing
Testing open source with open tools
Contributor Linda Wilkinson does an excellent job on her chapter titled, "Was It Good for You?" She says testers "assure quality" by presenting bugs, issues, and discrepancies to project teams and management to help them make better decisions. Testers help developers become better at their jobs by showing them the type of errors found in their code so they can fix those errors, learn from their mistakes, and stop making the same mistakes in future work. The job of the tester is to seek, find, and report, not to pass judgment in some sort of godlike capacity. So the next time your testers put in 500 hours of overtime due to late code deliveries and buggy code, and drive out 1,200 errors—40 percent of which are showstoppers—would you say it good for you? Well, it was good for them, and, ultimately, good for your customers, your company, and your bottom line.
The book is concise and well organized. It's a necessary read for everyone with a major stake in software development. This book is for people who want to improve the products they work on. This book describes ways to think about testing that will increase your chances of having a successful product.