What makes software projects succeed? It takes more than a good idea and a team of talented programmers. A project manager needs to know how to guide the team through the entire software project. There are common pitfalls that plague all software projects and rookie mistakes that are made repeatedly--sometimes by the same people! Avoiding these pitfalls is not hard, but it is not necessarily intuitive. Luckily, there are tried and true techniques that can help any project manager.
In "Applied Software Project Management," Andrew Stellman and Jennifer Greene provide you with tools, techniques, and practices that you can use on your own projects right away. This book supplies you with the information you need to diagnose your team's situation and presents practical advice to help you achieve your goal of building better software.
Topics include:
Planning a software project
Helping a team estimate its workload
Building a schedule
Gathering software requirements and creating use cases
Improving programming with refactoring, unit testing, and version control
Managing an outsourced project
Testing software
Image: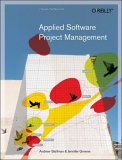 Member Reviews:
Review By: Daniel J. Luciano
06/23/2010The authors of "Applied Software Project Management," Andrew Stellman and Jennifer Greene, cover the tools and techniques a project manager needs. Drawn from their own experience, the authors give practical examples of good project management.
The book is divided into two sections. The first half covers a range of issues project managers encounter. Each chapter is dedicated to a particular phase of a software project. The authors include examples of several tools, some thoroughly detailed, others lightly explained. The phases covered in this section are planning, estimation, schedules, reviews requirements, design and programming, and testing. In most chapters the authors refer the reader to outside sources for more in-depth information.
The second section of the book deals with problems affecting all project managers, yet these problems are not usually well covered in other books about project management. The problems the authors discuss are change, management and leadership, managing an outsourced project, and process improvement. The second half of the book contains fewer tables and figures than the first half and offers no suggestions for further reading.
This book is good for a person just getting started in project management or is about to undertake his first project. I particularly liked the chapters on design, programming, and software testing. I found the example and explanation of a test case to be useful. The second section is also beneficial, but I would have liked it more if the authors made recommendations for further reading about each topic in this section--similar to the first section.
The authors' writing style is clear, the information is easy to understand, and the examples (numerous tables and graphics) support the message. Overall, the book is a quick and easy read.