AntiPatterns: Identification, Refactoring, and Management catalogs 48 bad management practices and environments common to software development, IT, and other organizations. The authors cover antipatterns of management, along with environmental/cultural antipatterns and personality antipatterns/phenotypes. Through the classification of these harmful practices, you will be able to identify problems in your own work environment, and take action to correct them. Following introductory material describing management theory and how humans behave individually and in groups, the text provides the catalog of management and environmental antipatterns. The book then offers general advice on overcoming bad practices through successful interaction with clients, customers, peers, supervisors, and subordinates.
Subtitle:
(Auerbach Series on Applied Software Engineering)
Image: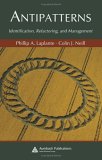 Member Reviews:
Review By: Jennifer Cannon
12/15/2006"Antipatterns: Identification, Refactoring, and Management" by Phillip A. Laplante and Colin J. Neill is a well organized, well-written book that defines and catalogs forty-eight bad management practices and environments (called "antipatterns") primarily for IT and software development environments. However, the ideas discussed can be adapted to other types of organizations.
The central concept of each antipattern is discussed, followed by a description of the dysfunction. To clarify that description, the authors include a vignette to show the antipattern in action along with an explanation. If you are working in an environment affected by that particular antipattern, the authors provide a "band aid" suggestion to deal with it. If you are the cause of the antipattern, they also provide suggestions for self repair. They also provide suggestions for refactoring to end the dysfunctional behavior. Not sure if an antipattern applies to your situation? An identification instrument (a series of yes-or-no questions) is included for each behavior.
The organization of this book makes it an easy read, and it allows the book to be used as a desk reference whenever you get that sinking feeling that your team, department, or even your entire company seems to be behaving in a dysfunctional way. The writing style is engaging and lively, with cartoons, anecdotes, jokes, and stories from the authors' own experiences. The names of the antipatterns--Headless Chicken, Fruitless Hoops, and Boiling Frog Syndrome for example--are truly memorable. This isn't an academic management text book filled with behavior science research. Scientific findings are cited when relevant, but, as the authors' share in the preface, the application of their own real-world experience, consulting experiences, and the experiences of other professionals they have worked with leads to a more realistic treatment of the antipattern concepts.
I would definitely recommend this book for any IT and software development manager and for any IT team member, especially in problematic environments.